THE COLLECTION - REVIEWS AND COMMENTS
Contents
---
Reviews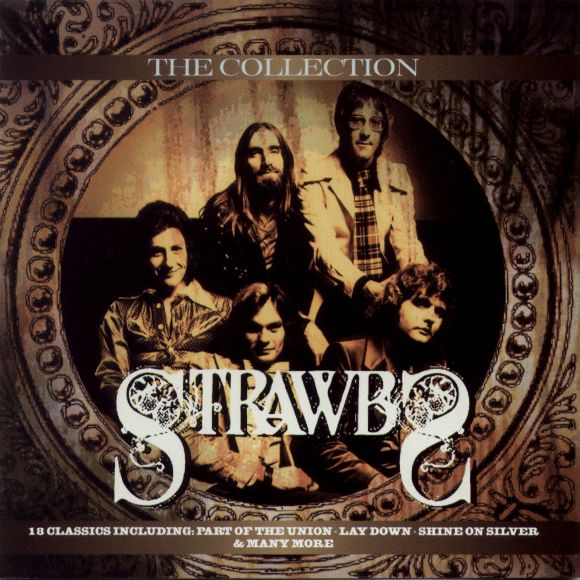 AN ODD COLLECTION - Review by Dick Greener
Got my copy of the new Strawbs Collection this weekend and played it (loud) on a few longish car journeys. The compiler of this budget compilation has tried to opt (within reason) for a different selection of songs from those included on Strawbs' previous mid-price "best of" - A Choice Selection from 1992. A pleasant enough medley, though a couple of seriously odd choices. It's partly but not fully chronological - an unusual and sometimes slightly irritating amalgam. As a whole the compilation seems to have little particular direction, other than maybe be a mixture of (a) the collected singles of Strawbs (fair enough) and (b) those tracks which have a religious connection (see previous posting about Strawbs' religious tracks) - to which the sleeve notes, written by Darryl Easlea of Record Collector draws attention: "the group had a mystique unparalleled with biblical references replacing the mytholgical ones that other groups favoured").
Bookends for the disk at track 1 and 18 are the two big hits "Part Of The Union" and "Lay Down". Second in, we leap straight to the Witchwood era (why?) with "I'll Carry On Beside You". This was a Tony Hooper vocal track which was initially intended as the single from Witchwood, but later shelved in favour of the title track (and that too was withdrawn). Both were intended to have on the B-side "Keep The Devil Outside", (which comes up as track 10) which is in some ways slightly similar, featuring electric guitar breaks (Cousins on the Danelectro?). Both also have a religious flavour.
"Jesus" - both a single release and clearly religious deserves a place on any Strawbs retrospective, as does the first single "Oh How She Changed". "I Turned My Face" represents the Dragonfly album, and then we have the first of two from Antiques "Song Of A Sad Little Girl" ("Martin Luther King's Dream" comes later sandwiched between two tracks from Ghosts and Nomadness respectively). I could have done without "Sad Little Girl" as it has featured on Choice Selection already. "Witchwood" next then a double from Grave New World, the perennial "Benedictus" which I suppose like POTU and Lay Down tends to define the Strawbs sound, and John Ford's Heavy Disguise (with a few stray drums from the back end of "Queen Of Dreams - obviously the compiler had no access to the master tapes, these have just been ripped from the 1998 CD releases - shame.)
I must say "Keep The Devil" is an odd choice - it's already been included on Halcyon UK (part of the intention of Halcyon UK was to include some rare non-album A/B-sides) AND the From The Witchwood CD reissue: it's frankly not one of John's best - presumably it makes it because of the religious theme, but I'd have preferred something like Hudson's "Flight" or "Canon Dale" from the same period.
I'm a big "Shine On" fan - the first single after the break , and "Grace Darling" the first single from Ghosts. "Lemon Pie" (another single) has been out a few times already, we could maybe have done with a differet selection - what about Lambert's "Don't Try To Change Me" or Little Sleepy" from Nomadness - Lambert's pretty criminally under-represented here.
Back to religion for "MLK Dream" (at first I wondered whether the compiler had been confusing Martin Luther King with Martin Luther, but it seems to have got in on the back of a religious reference lyrics "listen to your leaders and the words of the Lord"), and then Tokyo Rosie" - given Nomadness's non-appearance on CD, I'd have liked to see one of the tracks not yet transferred to the digital domain, ideally the excellent "Hanging In The Gallery".
Back to the Bursting era briefly, for the POTU B-side "Will Ye Go": another odd choice maybe - already on Halcyon UK and the BATS re-issue, perhaps not essential Strawbs for this type of disc. And finally, two more singles, the Oyster "I Only Want My Love" (why stop there - as presumanbly Polydor and A&M all now fall under Universal, we could have had more from the latter period - the excellent "Burning For You" maybe, or "So Close And Yet So Far Away", a nearly single in the US), then "Lay Down " to close. (It's the album version of "Lay Down" with twice as many choruses – Easlea comments that this version is more "folk-based" than the "Faces-emulating" single (eh?)).
Packaging not bad, given it's a budget offering. The porthole style design on the front is bit pixellated when you look sat it closely and the quality of the Strawbs logo - with infamous reversed "S"- is really poor. Shame they didn't use Rod Green, who's turned out some really nice jobs on recent Strawbs CDs.
All in all, not bad, but probably not quite as good a selection of qunitessential Strawbs songs as the previous compilation A Choice Selection, and I think that's it's the latter I'd press into the hand of an unbeliever to convince them that this lot were worth listening to (if I couldn't get them to take the 2CD Halcyon US, that is).
What's on this one
| | | | | |
| --- | --- | --- | --- | --- |
| Title | Collection | Choice Selection | Halycon UK | Halcyon US |
| Part Of The Union (Ford/Hudson) | YES | YES | YES | YES |
| I'll Carry On Beside You (Cousins) | YES | NO | NO | NO |
| The Man Who Called Himself Jesus (Cousins) | YES | NO | YES | YES |
| Oh How She Changed (Cousins/Hooper) | YES | NO | NO | NO |
| I Turned My Face Into The Wind (Cousins) | YES | NO | YES | YES |
| Song Of A Sad Little Girl (Cousins) | YES | YES | NO | YES |
| Witchwood (Cousins) | YES | NO | YES | YES |
| Benedictus (Cousins) | YES | YES | YES | YES |
| Heavy Disguise (Ford) | YES | NO | NO | YES |
| Keep The Devil Outside (Ford) | YES | NO | YES | NO |
| Shine On Silver Sun (Cousins) | YES | NO | YES | NO |
| Grace Darling (Cousins) | YES | NO | YES | YES |
| Lemon Pie (Cousins) | YES | YES | NO | YES |
| Martin Luther King's Dream (Cousins) | YES | NO | NO | NO |
| Tokyo Rosie (Cousins) | YES | NO | YES | NO |
| Will Ye Go (McPeake) | YES | NO | YES | NO |
| I Only Want My Love To Grow In You (Cousins) | YES | YES | YES | NO |
| Lay Down (Cousins) | YES | YES | YES | YES |