DEEP CUTS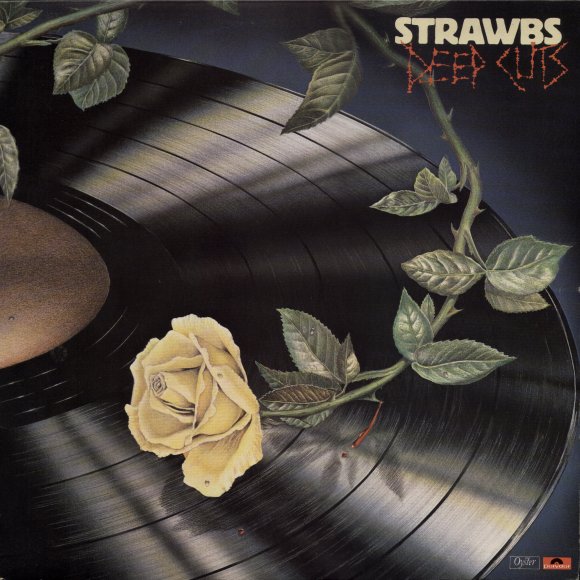 After Nomadness - where the band moved away from the "big American sound" which characterised "Hero and Heroine" and "Ghosts", and which contained no Cousins epic track, the band rethought their approach for "Deep Cuts", which still apparently remains one of Cousins' favourites. The band had started recording the album in January 1976, but problems arose. Dave Cousins was quoted as saying:
"This album took the longest time ever for us to record. We were locked in the old Strawbs period, it was too much Strawbs revisited. We wanted something new."
The feeling seemed to crystallise around the production. Tom Allom had been involved in the band's albums since "Grave New World" as engineer, and "Hero and Heroine" as producer. The sleeve notes to the album thanked him "for his work on 'Beside the Rio Grande' and 'Hard Hard Winter' - a true friend", and it would seem that he produced those two tracks before the association dissolved.
In November 1976's International Music and Recording Studio magazine, old Strawbs commentator Ray Hammond interviewed Cousins who said:
"We had been getting stale again, and whenever I feel stale, something has to go. Usually it's a musician, or a couple of musicians, who go, but this time it was unfortunately the producer, poor old Tom Allom. He's produced a lot of albums for us, but we all felt, Tom included, that we had become so close to one another that we couldn't be objective about what we were doing. We discovered that when we started recording in February this year. We put down two or three tracks and they sounded like everything else we've ever done, and I was getting terribly frustrated."
In fact the sessions had produced more than that before they were abandoned as Cousins wrote in a letter:
"We ... laid down five tracks, 'Rio Grande', 'Hard Hard Winter', a remake of 'Blue Angel' and a couple of others which have never seen the light of day."
Allom remained a friend nonetheless, and, strange but true - Cousins later guested on the Allom-produced Def Leppard track "When The Walls Came Tumbling Down" on their 1980 album "On Through The Night".
It was decided to abandon the sessions and introduce fresh blood. Strawbs' office in New York at the time was handled by Raymond Kurtz who was managing Rupert Holmes and Jeffrey Lesser, a team of New York producers, with a track record including hits for the rather eccentric band Sailor and an album for Barbra Streisand. Strawbs recruited Lesser and Holmes as producers/keyboard players. With Kirby, Mealing and Holmes, that meant that the band boasted access to three keyboard players.

All but three songs were written by Cousins and Cronk in partnership - according to Cousins, the duo retired to the country during the summer and the songs for album were "written within a week. The songs just kept pouring out. They've been building up for some time. At one point I wrote six in 24 hours."
Recorded at the Manor, "Deep Cuts" was an altogether more spirited affair than "Nomadness", from the very first track, "I Only Want My Love To Grow In You", which was released as a single in July as a taster for the album. Cousins still thinks that the record is one of their best; it certainly is enjoyable pop-rock. However, many a slip: on the supposed "world premiere" of the single on CHOM-FM in Montreal (late July 1976), they started the song at 33 RPM and sped it up only after the voice revealed the error! The song was said by Cousins to be "about my current lady friend, the same one for whom I wrote 'Grace Darling' and 'Lemon Pie' from the 'Ghosts' album."
It was followed on the album by "Turn Me Round", a song which has for a long time given Cousins the opportunity to use the emotion in his voice, sometimes at the expense of his voice itself. Cousins:
"A religious epic inspired by watching John Denver performing 'The Eagle and the Hawk' at the Palladium. The last verse is perhaps the most vivid and graphic I've ever written. It's about creating a painting in a studio, and that verse came just like a painting ... in an outburst of passion. It just flashed on the paper like vivid, visual colours.
"Hard Hard Winter", a song co-written by Cousins with Robert Kirby, allows Cousins' lady of the midnight sun to make a return appearance. It is beautifully produced, even down to the touch of frost on Cousins voice as he sings "as cold as ice at highest noon". Cousins:
"This one was written in Regina, Canada, which is probably one of the coldest places in the world. We were all feeling very quiet and depressed ... it was the beginning of our last tour, the long long American tour from, which we all came back exhausted."
"My Friend Peter" is a rocker, about which Cousins wrote:
"The tax situation in Britain is incredibly bad. Peter, a friend of mine in the West Country where I live, actually had gone bankrupt, butchered by the taxman. They can enter your house day or night without a warrant. The song's about the impossibility of the whole situation. I wanted to do it in a thirties vamp style, but Rupert [Holmes] wanted it more modern. That's the way we did it."
The album gathers momentum now with "The Soldier's Tale":
"It deals with the retreat of Bonnie Prince Charlie from the Battle of Culloden, which marked the defeat of the Scots at the hands of the British. They ceased to be a monarchy. The idea came about 18 months ago when I was in Scotland."
Side two opens with one of the classic Strawbs tracks, "Simple Visions" which gives the album its title. Before the massed acoustic guitars strike up, Cousins can be heard to say "Hey me words have blown away", presumably indicating that at least part of the track was recorded out of doors (which given that the Strawbs had returned for this album to their old favourite the Manor, where eccentric behaviour in the studio was tolerated, that is not entirely surprising). Cousins:
"A break up in my personal life. I was blind but now I see. The revelation that came when I put my head on the block. I don't want to get too specific about this one."
"Charmer" which also appeared as a single, slightly remixed to add an effect over the last line of the chorus, is a fairly straightforward rock/pop song. Cousins doesn't comment on this song at all in the Polydor release material. "Rio Grande" appeared on the back.
"(Wasting My Time) Thinking Of You" if not credited to the Cousins/Cronk duo, could have been an outtake from the first Strawbs album, an attempt almost to produce a pure pop, easy listening track. It also appeared as the B-side of the single "I Only Want My Love To Grow In You". Cousins:
"I was just about to wrap it up, but Rupert suggested we add another verse at the end. We were sitting around the studio drinking this awful wine. I added the last verse 'getting my kicks from Algerian wine' which is very sarcastic. But the song is me reflecting on my lady friend, Lemon Pie"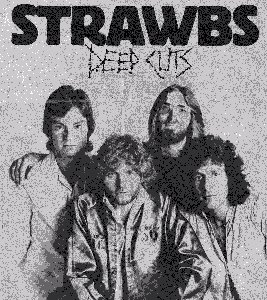 "Beside The Rio Grande" however was a very different kettle of fish - it would become a Strawbs classic, according to Cousins: a "cowboy version of the crucifixion, written in Alberquerque."
The album closed with another Cousins solo song, "So Close And Yet So Far Away" which was released in December 1976 as the third single from the album, backed by "The Soldier's Tale". Oyster were certainly doing their best to promote their new signing.
At the end of the sessions, the intention had been for Holmes to work with Dave Lambert on an outtake from the sessions as a Dave Lambert solo single, but this didn't happen in the end.
The band successfully premiered the new material at the open air rockfest at Cardiff Castle in July of that year. Music press spies got wind of a secret Strawbs gig at Cromer West Runton Village Inn on Thursday 24 July 1976. Unnanounced, unadvertised, this was a warm up for the band's date at Cardiff Castle the following Saturday.
The single, despite considerably airplay, had failed to make a dent on the charts, and on 29 October, Oyster released a remixed version of "Charmer" as the next single, backed with "Beside The Rio Grande".
Reviews for the album were fairly good, a welcome response to Strawbs' more upbeat approach. Tony Mitchell, reviewing for Sounds (?) in their 25 September 1976 issue:
"Strawbs have a distinctive style, accreditable to founder member Dave Cousins ... Cousins' presence is as powerful as it has ever been; he dominates both the writing ... and the singing, drawing on the other members of the band for back up vocals only. ... Deep Cuts is characterised by a sense of drama; many of the songs have strong story lines ... with a moralistic or allegorical content reminiscent of contemporary folk music, or perhaps more accurately of the mid-to-late Sixties era when songsmiths like Dylan and Baez dominated ... This is none too surprising since the roots of the original Strawbs lay very much in that era and that kind of music."

"But this is definitely rock music .. undoubtedly enhanced by the guitar work of that other old Strawbs Dave Lambert and the rhythmic patterns generated by Chas Cronk and percussionist Rod Coombes. Indeed the choice of ''I Only Want My Love To Grow' as first track .. seems to say 'Here we are, we're a rock band' but the following track 'Turn Me Round' has Cousins in more classical form with Dylanesque vocals and slurred phrasing, saying, if you like, 'but we're still the Strawbs'"
All in all, concludes Mitchell, "an album which will not disappoint Strawbs fans and probably get them a good few more. It has power and it has magic ...."
NME was less warm-hearted:
"The Strawbs debut on their new label is not quite a pearl, nor do the cuts display excessive depth. Yet this is a fairly convincing return to form for Dave Cousins. At least seven of the ten cuts are sharp melodic cuts of the 'Lay Down' ilk. 'Turn Me Round', 'Simple Visions' and 'Thinking Of You' all have potential as hit singles. Sadly there are also the inevitable narrative ballads, in this case ''The Soldier's Tale' and 'Beside The Rio Grande', both humourless harangues."
Not a bad review from the NME, nonetheless.
Melody Maker's Colin Irwin opens:
"Dave Cousins has desperately kept the Strawbs' flag waving ... The only constant thing has been Cousins at the front like a sea captain who refuses to abandon ship in ever-changing weather conditions, and it's surely Cousins' strict dominance that has contributed to them sounding badly jaded on their last couple of albums. He's an intelligent songwriter who's sporadically produced excellent work but has always had sever limitations as a singer. This album is held back for those reasons - the tight command of Cousins restricting any much needed breadth and freshness the band might be able to give. Dave Lambert shows himself in glimpses to be a fine guitarist and I reckon he'd be a better bet as a lead singer, though naturally he gets little chance to show that. And behind the hard rock that Lambert contributes, it's all down to mellotron and overblown arrangements to suggest it's all rather grander than it actually is ... a more out and out pop album than the Strawbs have made for a long time."
He concludes:
".. it would have been more effective and honest to have stripped away all the decorations so that the worth of songs like 'Simple Visions', 'Hard Hard Winter', 'Charmer' and the single 'I Only Want My Love To Grow In You' could be judged without the absurd distractions. There are a couple of typical Cousins extravagances ... the flamboyant, dramatic 'Soldiers' Tale' and the peculiar 'Turn Me Round' sung by Cousins with piteous urgency. It's all a bit overblown and pompous, but it's also Strawbs'; most commercial album for some time, and though 'I Only Want My Love to Grow in You' didn't make it as a single, there's a sentimental ballad on here called 'So Close And Yet So Far Away' which surely would. It's about time the mums and dads laid claim to Dave Cousins."
The latter comment is the one that led Cousins to vilify Irwin and negative critics in general in the song "Alexander The Great" on the next album. Nonetheless, the record company at least seem to have acted on Irwin's advice, releasing "So Close" as a single in December 1976, backed with "The Soldier's Tale". Irwin was wrong - the single failed to move.