STRAWBS - THE NEW CROP
A FEATURE BY DICK GREENER
Back to main Hero And Heroine page
Dave Cousins set to work rebuilding the band, drawing on his deep knowledge of the music business from his work for Danish radio, where he had been listening to new releases for six years, and making notes on players who caught his ear, just in case. Possible candidates included Ten Years After rhythm section Ric Lee and Leo Lyons or Deep Purple bassist Roger Glover (who played on Cousins solo album), but in the end Cousins and Lambert settled on Rod Coombes, John Hawken and Chas Cronk to form what, for many US fans, is the seminal Strawbs line-up.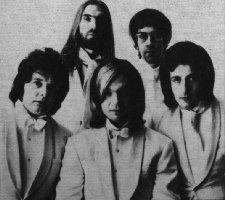 Rod Coombes
The first to be confirmed in July 1973 was drummer Rod Coombes, from the dysfunctional Stealers Wheel (he appears on the first album cover, where all the band members are depicted as animals by Gerry Rafferty's crony John "Patrick" Byrne). Coombes first played guitar at the age of 15 in school band the Casuals, turning professional two years later as part of Lulu's backing band the Luvvers. During this time he met Paul Pilnick (later to work alongside him in Stealers Wheel) who at the time played guitar for The Big Three. After the Luvvers, Coombes did a stint with Jeff Beck Band, at the time of their hit with "Hi Ho Silver Lining" - fellow band members included Rod Stewart and Ronnie Wood.
With former Luvvers colleague, bassist Speedy King, he joined a band called Trifle, when they lost their drummer to Procul Harum. Trifle had evolved out of George Bean and the Runners, and was essentially a soul band, who released a single on United Artists "All Together Now"/"Got My Thing" (UA 2270, 1969) and an album and single for Dawn. The album was "First Meeting" (Dawn DNLS 3017, 1970) and the single "Old Fashioned Prayer Meeting"/"Dirty Old Town" (Dawn DNS 1008). ("Dirty Old Town" was a cover of a Dubliners track.) Coombes stayed for about 18 months.
After leaving Trifle in 1969, he worked in experimental jazz rock, working with Paul Williams (ex-Zoot Money) until, with Williams, he joined Juicy Lucy in 1970 for their "Lie Back And Enjoy It" and "Get A Whiff Of This" albums (Vertigo 636 014, 1970 and Bronze ILPS 9157, 1971 respectively). After Juicy Lucy, Coombes played in the Roy Young band for a short period, then took some time off to develop his writing and arranging talents, finally joining Stealers Wheel, where he helped make their first album, including the hit "Stuck In The Middle With You", on which his drumming style is clearly audible.
Mark Plummer announced his arrival in Melody Maker (14 July) as presaging a "funky future":
"Coombes is one of the funkiest drummers in Britain today. In the past he played with Juicy Lucy (who if promoted and recorded properly could have been a bill topper today), he replaced Mike Kellie when Spooky Tooth was on the way out (a gig that few drummers could have taken) and then gave his musical and arranging talents to Stealers Wheel. Coombes is a perfect drummer who is also a dab hand at bass - he played some of the trickier parts on Stealers' album before De Lisle Harper joined - and can also play guitar, piano and sitar. His spiritual character will complement Dave Cousins' slightly rash idealism and Dave Lambert's down to earth nature."
John Hawken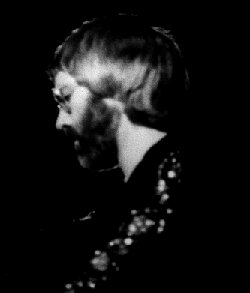 The rumour spread that veteran keyboard player John Hawken would be joining on keyboards, a rumour which proved to be true. In an interesting parallel with Blue Weaver and Amen Corner, Hawken had been in the Nashville Teens during their hit singles period, but had gone on to play in the first line-up of Renaissance with Keith Relf and latterly had turned in some pretty convincing rock'n'roll with Elkie Brooks, Robert Palmer, Pete Gage et al. in Vinegar Joe.
Hawken started playing in bands at grammar school in the North of England, later moving Weybridge in Surrey. Via an ad in the local paper he joined a local dance band and subsequently a rock and roll band - the Cruisers' Rock Combo. The Combo later merged with the Nashville Teens - and soon went pro, playing the usual rounds in Germany - Top Ten Club Hamburg, Star Club Hamburg, Frankfurt, Cologne. Legendary manager Don Arden spotted them at the Kingston Jazz Cellar as a potential backing band for Chuck Berry's first tour of Britain. He signed them, organised a session with producer Mickey Most and the hit single Tobacco Road steamed up the charts, putting the Nashville Teens firmly on the map. Tobacco Road gave them a good three or four years of playing in top class gigs - all over Europe, a mini tour of America in 1965, going behind the Iron Curtain to Hungary, the first band to play there - but, without a follow-up hit, the band eventually folded sometime in late 1968.
Hawken next joined Keith Relf and Jim McCarty in the original Renaissance - just out of the Yardbirds and wanting to do something very different - along with Louis Cennamo and Jane Relf, Keith's sister, completing the line-up. After a first album for Island Records, pressure on Keith Relf and McCarty as the main songwriters increased, causing McCarty and Relf to decide to come off the road, Cennamo and Jane Relf following suit after a while, leaving Hawken as the only original member, teaching incoming members the older numbers. This situation palled after a while and Hawken jumped ship to join a four month European tour with a late incarnation of Spooky Tooth, with Mike Kellie, Luther Grosvenor and Mike Harrison.
Hawken next joined Third World War, whose main songwriter, Terry Stamp, according to Hawken - a natural, was an ex-truck driver. The band was very loud and very punkish, definitely anti-establishment and lasted for about a year. A period in Vinegar Joe with Elkie Brooks and Robert Palmer followed - short and according to Hawken, certainly not sweet.
Cousins and Lambert came down to see Hawken play with pick-up band Frankie Reed and the Power House. Liking what they saw, they invited Hawken to join them for auditions near Chalk Farm Roundhouse, where Hawken was introduced to the mellotron for the first time. At those auditions, Hawken played "Where Do You Go" and, with Chas Cronk, a much longer more intricate version of "Shine On Silver Sun", with an unreleased opening section and the whole of the material that would subsequently become the song "Words of Wisdom" on Deadlines sandwiched between the final verse and the closing choruses.
Chas Cronk
To complete the line up, Cousins brought Chas Cronk on board (on a recommendation from Rick Wakeman as the best bass player around without a band commitment). Cousins had known Cronk for some time:
"Chas's mum and my mum have worked together for years and my mum was always telling me about 'Mrs. Cronk and her little boy' and how well he was doing. And Chas's mum was going back and saying 'Mrs. Cousins has been telling me all about David' - and of course he hated my guts. Then it turned out he was a friend of Rick's and we were both playing on a session [for Wakeman's Six Wives Of Henry VIII album, on which Cronk played bass and Cousins played banjo] and I thought 'what a nice bloke.'"
Chas's first musical instrument, according to a 1977 profile, had been an acoustic guitar bought at the age of 7 or 8. It was not till he was working that he moved onto an electric instrument, the electric bass. He worked semi-pro whilst still at school and college, eventually turning pro whilst playing with school friends in a band called Mosaic.
He supported his musical activities by working as an industrial photographer for the Gillette razor blade company. At 17 he had a deal with Denny Cordell's Regal Zonophone publishing company. Whilst he didn't record an album as such he got a lot of studio time and experience through Cordell. At the studio he met Jimmy Thomas, then working with the Ike and Tina Turner band and formed a band with him. Thomas worked with Chas on and off for quite some time; it was during this period that Chas met Rick Wakeman, who was playing in a show band which played at weddings and functions. They hit it off and ended up doing a number of sessions together through Regal Zonophone. He also met Tony Visconti, later to work with the Strawbs, and Dave Lambert.
Chas, Dave Lambert and Dave Cousins were all featured on Rick Wakeman's solo album Six Wives Of Henry VIII, on the track "Catherine Howard", after which Chas went off to join the Phillip Goodhand Tait album, playing on the Songfall album, released in 1972 (DJM, DJLPS 425).
Gonna get back to the country .....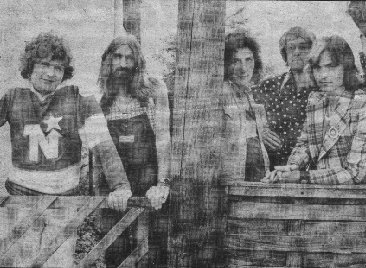 Next, A&M press releases announced the full line up. The band would rehearse at Cousins' Devon retreat and would record a new single towards the end of July 1973. A European tour was to be the new band's first outing, followed by an six week American tour beginning on 21 September, running through to the end of October. No new album was expected until October. In fact Hero and Heroine wouldn't be released in the UK until the following Spring.
In the meantime, Strawbs operated in now time-honoured fashion: purdah in the West Country, with Cousins putting them through their paces, rehearsing in the local village hall in Alfington on the outskirts of Honiton, Devon. Photographs on the inside cover of the Windsong BBC In Concert CD released in 1995 are from that period.
Cousins, interviewed by Jerry Gilbert in a Sounds article "Jacks Out for the Strawbs" explained the process - on the one hand alcoholic entertainment and team-building, on the other hand a tightly scheduled series of milestones leading to the European tour. The article opened, quoting Cousins: "The best and possibly the only way of breaking in a new band is to retreat into the country, converge on the local inn and set up a game of jacks." Explaining further that jacks was a suicidal pub game (in which allegedly Chas Cronk had taken "an early pounding") on the following basis:
"1. Sit round table 2. Deal out pack of cards 3. The man who receives the first jack suggests a drink 4. The man who receives the second concocts an unlikely cocktail (pernod and Brown ale or advocaat and cider are firm favourites) 5. The third jack pays for the drink ... 6. The fourth jack drinks it."
On a more serious note Cousins was quoted at the time:
"In the process of teaching the new members the old songs, we've discovered a lot of loose bits that should have been straightened out. So we've taken the old numbers apart, dissected them, found the untidy or unnecessary bits and cut those out."
There was a distinct change in approach, focusing on the music rather than the presentation - glam and showbiz were out, hard work and a concentration on honesty and hard work were in. Cousins, rather warily, in NME:
"I did go through my period of being a superstar when we had singles in the charts. I thought that the way to succeed was to have singles in the charts and the albums would naturally follow. But when the band split up, I realised that this part of the image did us a lot of damage. Fair enough it took us right to the top of the charts- but it also cut away all the musical credibility we'd built up over the years.
Shining on ....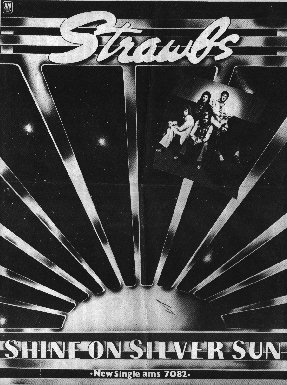 It was important for the band to release a single as quickly as possible, lest the buying public think that the Strawbs had disbanded for good. Candidates for the single were either "Shine On Silver Sun" or "When You Need A Hole To Crawl In" (the latter lost the toss and surfaced first as the B-side to "The Winter Long" and then on Ghosts). According to Jerry Gilbert in Sounds (4 Aug), also under consideration was a Dave Lambert song, probably "Just Love".
In contrast to the 300 hours of studio time taken to record the Bursting At The Seams album, the single "Shine On Silver Sun" took only four and a half hours to record and mix:
"The backtrack was put down in an hour and a half in three takes. The vocal track took an hour - interesting that, as Chas Cronk's harmonies are much higher than any the Strawbs have had since Sandy Denny split years ago - there were a couple of overdubs and then the track was mixed."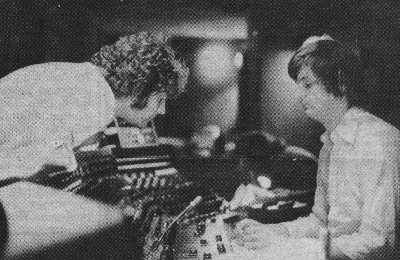 The B-side of the single was non-album track "And Wherefore", which after a couple of verses from Cousins, runs into a rousing piano workout for Hawken and the band. The track was originally intended as the closing part of a three part song "Why And Wherefore", following an old Cousins song "Why" dating back to the 60s (a version appears on Preserves) and a middle bridge section. "Why and Wherefore" was played as the instrumental workout encore in the early gigs of this line-up (in the footsteps of "Sheep", "Tomorrow" and latterly "Down By The Sea"). The studio version appears in full on Halcyon Days (UK version), and a live version can be found on bootleg CD In Search Of The Heroine, recorded in February 1974, as a substitute for "Hero And Heroine" when John Hawken's Mellotron packed up on a live radio show.
Shine On was the fourth track they recorded (the other three being Where Do You Go, and almost certainly "Just Love" and "Why and Wherefore") and this was only their third day in the studios - contrast this with the work rate for the previous album of about a track per week. Cousins was obviously pleased with the Island sessions and the way the band was developing:
"Things are really beautiful, I couldn't be happier. The whole band is working and I feel really happy. As you see there's a really good feeling. Everybody seems to agree over things. Everybody's contributing and everybody's happy to be contributing. Making Bursting at the Seams was torture whereas this one is going to be a pleasure."
"Shine On Silver Sun" was released it in the same month as Hudson-Ford's "Pick Up The Pieces" (initially scheduled for August 31 release, it was held up for a week as A&M weren't able to cut enough copies to meet advance orders. The band appeared on Top Of The Pops to promote the single, even though as a result they had to cancel some Danish commitments. Reviews were mixed. An unknown reviewer offered Dave Cousins up for some kind of All-In British Wimp-Rock championship award, suggesting that the single was "a tepid piece of droning nausea, that must represent some kind of low point for the Strawbs" (he didn't like it!). Elsewhere, "another power packed product from the Strawbs ... the lyrics are simple and the hook line comes frequently enough to stick. Oh yes we shall soon see the jolly little form of Mr. Cousins bopping around on TOTP I think." (he did like it!). Jerry Gilbert (?) in Sounds thought the backing "excellent, with clinking piano and lusty drums" but suggested that, despite added echo: "Dave Cousins is a good darts thrower, but when it comes to singing, I duck into the storm shelters." Nevertheless, he conceded grudgingly that "Cousins voice has a certain charm ... it'll be a whizz bang hit all right."
Sadly for the new-look Strawbs, that was not the case, and the record buying public preferred Hudson-Ford's offering. "Shine On" only reached number 34, despite lots of airplay - particularly from Alan Freeman - and a Top Of The Pops appearance.
Commenting later that year (Ripe Strawbs, 10 Nov 73), Cousins said:
"I didn't build up any hopes with the single. The idea was really to introduce the changes in the band and show the Strawbs were still around and that we'd got back to the more accepted Strawbs sound. ... it served its purpose because it got fantastic airplay and we did a Top of the Pops on the strength of it, so it showed we were still around. It showed that the glitter days are gone forever."
Back to main Hero And Heroine page
---