ROD COOMBES
Updated September 2005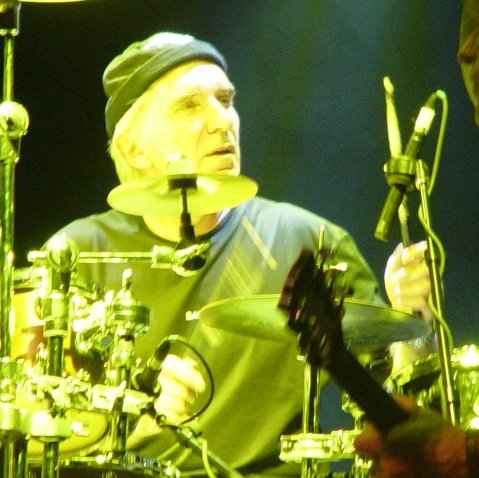 The first to be confirmed for the post-Bursting line-up in July 1973 was drummer Rod Coombes, from the dysfunctional Stealers Wheel (he appears on the first album cover, where all the band members are depicted as animals by Gerry Rafferty's crony John "Patrick" Byrne). Coombes first played guitar at the age of 15 in school band the Casuals, turning professional two years later as part of Lulu's backing band the Luvvers. During this time he met Paul Pilnick (later to work alongside him in Stealers Wheel) who at the time played guitar for The Big Three. After the Luvvers, Coombes did a stint with Jeff Beck Band, at the time of their hit with "Hi Ho Silver Lining" - fellow band members included Rod Stewart and Ronnie Wood.
With former Luvvers colleague, bassist Speedy King, he joined a band called Trifle, when they lost their drummer to Procul Harum. Trifle had evolved out of George Bean and the Runners, and was essentially a soul band, who released a single on United Artists "All Together Now"/"Got My Thing" (UA 2270, 1969) and an album and single for Dawn. The album was "First Meeting" (Dawn DNLS 3017, 1970) and the single "Old Fashioned Prayer Meeting"/"Dirty Old Town" (Dawn DNS 1008). ("Dirty Old Town" was a cover of a Dubliners track.) Coombes stayed for about 18 months.
After leaving Trifle in 1969, he worked in experimental jazz rock, working with Paul Williams (ex-Zoot Money) until, with Williams, he joined Juicy Lucy in 1970 for their "Lie Back And Enjoy It" and "Get A Whiff Of This" albums (Vertigo 636 014, 1970 and Bronze ILPS 9157, 1971 respectively). After Juicy Lucy, Coombes played in the Roy Young band for a short period, then took some time off to develop his writing and arranging talents, finally joining Stealers Wheel, where he helped make their first album, including the hit "Stuck In The Middle With You", on which his drumming style is clearly audible.
Mark Plummer announced his arrival in Melody Maker (14 July) as presaging a "funky future":
"Coombes is one of the funkiest drummers in Britain today. In the past he played with Juicy Lucy (who if promoted and recorded properly could have been a bill topper today), he replaced Mike Kellie when Spooky Tooth was on the way out (a gig that few drummers could have taken) and then gave his musical and arranging talents to Stealers Wheel. Coombes is a perfect drummer who is also a dab hand at bass - he played some of the trickier parts on Stealers' album before De Lisle Harper joined - and can also play guitar, piano and sitar. His spiritual character will complement Dave Cousins' slightly rash idealism and Dave Lambert's down to earth nature."
Coombes stayed in the band until late 1976/early 1977 when he left to be replaced by Tony Fernandez. He spent a period abroad, but was back with Strawbs for the Chiswick celebrations in 1998, also in 2004 for the US/Canadian tour which featured the classic Hero And Heroine line-up and 2005's UK reprise.
Photo by Mark Rashotte