DAVE COUSINS
Updated September 2005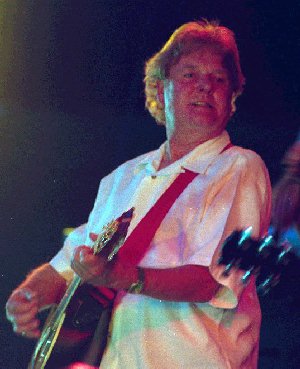 It's remarkably difficult to write a biograph of Dave without delving into the history of the group, which is covered in great depth elsewhere. Put simply, Dave is the Strawbs and has been throughout their history. The only other band he's ever said he'd like to have been part of was Sandy Denny's Fotheringay.
Dave with Tony Hooper were the co-founders of the Strawberry Hill Boys, playing together first as the short-lived Gin Bottle Four. The Strawbs emerged from these bluegrass roots in late 1967/early 1968. Renowned in the mid 60s as the fastest UK banjo-picker around, as his own haunting compositions began to displace the bluegrass/traditional material, Dave developed a well-respected guitar playing style with unusual guitar tunings which complemented them to perfection.
Undoubtedly the heart and soul of the Strawbs - as songwriter, front man and lead singer Dave has led the band throughout its many changes: from early days through folk-rock with a progressive flavour to the fully fledged rock band they are today. His complex epic songs, are the cornerstone of The Strawbs' appeal - delivered in his unmistakable vocal style, accompanied by his characteristic 12 or 6 string acoustic guitar over a rock backing, particularly organ and mellotron. His compositions form the vast bulk of the Strawbs output, many of them drawing - sometimes rather painfully -on his own direct experiences.
He has performed frequently as a much in demand acoustic duo with Strawbs guitarist Brian Willoughby, and will do so again as part of the 2000 tour. He has a solo album (the superb "Two Weeks Last Summer"), which rates with many of the band's releases, and two albums with Brian ("Old School Songs" and 1994's "The Bridge") to his credit.
Alongside his musical activities Dave has also maintained a parallel career in both marketing and local radio (his degree at Leicester University was in statistics). In the 60s and 70s he used to compile a weekly radio show for Danish radio, showcasing the best of UK pop music.
He left the Strawbs in 1980 to become Controller of Radio Tees, later relocating to Devon in 1982 to take over as Managing Director of DevonAir (the song "Forever Ocean Blue" on Ringing Down The Years was for many years the station's sign-off song). In the early 1990s, he moved back up to London and has worked in both TV and radio. He formed a marketing consultancy, St. Davids, and now lives just outside West London. He has been instrumental in many successful franchise applications business ventures involving local radio stations in the UK, including Orchard FM, Wessex FM, Minster Sound, Gemini Radio, Alpha FM, Thames FM, Xfm, Neptune Radio and most recently setting up Portsmouth's Victory Radio.
His was the guiding hand behind the extraordinarily impressive Chiswick extravaganza in 1998 and Dave led the Strawbs in resuming successful annual tours of the UK with the electric band in 1999, 2000 and 2001. A wrist injury which threatened to prevent him playing a Cousins & Willoughby gig brought Dave Lambert on board, and now Cousins & Willoughby became three as the Acoustic Strawbs, playing the Edinburgh Festival in August 2001 and undertaking over 50 shows round Britain (with a few in Italy) in 2002. Acoustic Strawbs went on to record an album "Baroque & Roll", including acoustic reworkings of Strawbs classics (Strawbs music as it was written, in their acoustic bare bones, which by dint the interplay between the three guitarists are alarmingly well fleshed out) and some new Strawbs material - the first in getting on for 10 years.
After a setback - Dave's fall in late 2002, which led to a Jan/Feb 2003 UK tour being cancelled - the Acoustics' triumphant return to Canada and the US in April/May 2003, another long-held Cousins ambition, has led to the band sharing their time with UK and US fans, with several tours of both places in 2004. A new album, Deja Fou, recorded by the reunited "US line-up" of the electric band which recorded Hero And Heroine and Ghosts, contained all new material from Cousins in particular, many of which bore the classic Strawbs stamp of Cousins' heyday. The same line-up brought Strawbs music to a new generation of fans on an extensive tour culminating with a headlining spot at the prestigious NearFest festival, and repeated the exercise on UK soil with an all too brief tour of UK and Denmark in July 2005.
New recordings with Rick Wakeman and an album with German guitarist/prog rocker Conny Conrad have also emerged.
And last but by no means least, Dave continues to lead Acoustic Strawbs from strength to strength with Chas Cronk replacing Brian Willoughby, as well as handling a bewildering range of other projects and aspirations, whether via Witchwood Media or elsewhere.
---