Setlist from Pete Bradley
Acoustic Strawbs
Lay Down
Tears And Pavan
The Man Who Called Himself Jesus
Cold Steel
Midnight Sun
Ghosts
Surprises
Dave Cousins/Clare Deniz - Josephine For Better Or For Worse
Dave Cousins/Clare Deniz - Forever
Dick Greener - On My Way
Kevin West - Five Tons To Shift
Chas Cronk - Starshine
Neil Byford - Yo-Yo Man
Tony Attwood - I'd Love To Dance With You Again
Miller Anderson - Tamp'em Up Solid
Dave Lambert - Stairway To Heaven
Dave Cousins and the Blue Angel Orchestra
Miller Anderson - guitar/vocals
Ian Cutler - violin
Chas Cronk - bass/vocals
Chris Hunt - drums
The Young Pretender
October To May
The House Of The Rising Sun
Falling In Love Again
Orange Blossom Special
Backwater Blues
Dave Lambert and the Blue Angel Orchestra
Need Your Love So Bad
Summertime Blues
Hootchy Kootchy Man
Baby Please Don't Go
I've Got Ramblin' On My Mind
Hey Joe
Johnny B Goode
STRAWBS CHRISTMAS PARTY, NPL, TEDDINGTON, 2 DECEMBER , 2006
THAT'S WHAT THE SIXTIES WERE ALL ABOUT - Review by Dick Greener
Don't read this if you're fed up of hearing about the Strawbs' Christmas party ....... for it was a truly splendid affair, no doubt about that.
First up Acoustic Strawbs, for the only "normal" set of the evening - and with the boys grandly attired in 60s fancy dress, even that's not entirely true. DC was flouncing around in a bright orange blouse, topped off with a floppy leopardskin hat; DL a brightly coloured tie-die kaftan and round shaded glasses; and Chas hidden away towards the back of the stage in a rather fetching grey jacket. Quite a reasonable number of audience members had joined in the fun too - some guests confessed to raiding the charity shops, others their own wardrobes from way way back. There were some great 60s beehive and flower child wigs around, a few Sgt Peppers, and two versions of the Prisoner (of which I was one!). Paul on the mixing desk donned a black wig and dark glasses too and became a disturbingly accurate Ozzy Osborne (didn't affect the sound though, which was excellent).
Opening with a brisk "Lay Down", highlight for me from the Acoustics' set was probably "Jesus", that intro and a perfectly sixties choice for the evening. "Cold Steel" sounded a wee bit different - as well it might for DC had forgotten to bring his banjo fingerpicks on stage so had to play his banjo without. "Ghosts" too was extremely powerful and looking round the audience I could see just how much everyone there was already getting into the festive spirit.
Second set was surprises time: and the first was the biggest of all. Dave took to the stage and to tumultuous applause announced Clare Deniz, who joined him for "Josephine" and, to my delight, "Forever", during which you could hear a pin drop. I don't think I'd ever expected to see them perform with Clare again and was absolutely delighted. We were all mainly standing anyway, but there was certainly an ovation after those two and cries of more; hopefully those wishes will come true (Dave did mutter something about "Another Day" ...).
Then another Ovation, this time carried by me as I got up and did "On My Way", to be followed in rapid succession (DC runs a tight ship show-wise) by Kevin West with "Five Tons To Shift". Then Chas took centre stage for an acoustic rendition of "Starshine" from Ghosts. Neil Byford played "Yo Yo Man" and Tony Attwood, Witchwood Media Director, with a sixties style protest song of his own called "I'd Love To Dance With You Again". Miller Anderson came on to give us a chugging blues number (Ry Cooder's "Tamp'em Up Solid") on Dave Cousins' acoustic and a bluesy harmonica, and Dave Lambert finished up the second set with his acoustic tour de force "Stairway To Heaven".
After a second interval, during which the grub was served, the Blue Angel Orchestra squeezed its way onstage for a reprise of a good deal (pun intended) of the stunning repertoire they debuted back in September. Tighter and more polished than on its first outing, a delight to listen to, Chris Hunt on drums and Chas on bass providing a rocksolid foundation for some vocal and instrumental flourishes from the other members. Opening again with "The Young Pretender", Ian Cutler's fiddle really swooped along with those riffs (although we've now heard it in its piano demo version on the boxed set, it's really for me those fiddle parts which make this a standout Cousins track). Second up was "October To May" with some nice mellow electric guitarwork from Miller.
The rest of the set were non-Cousins songs ("Blue Angel", "Absent Friend" and "Can You Believe" missing tonight owing to pressures of time). A showcase for Miller - an excellent "House Of The Rising Sun" excellent vocals excellent guitar. You can't be at the Blue Angel without Marlene Dietrich's "Falling In Love Again" (the last time we heard Dave do this in Deal, we'd already seen a transsexual magician and a transvestite torch singer, so Dave's outfit tonight eerily echoed the Deal experience ...). Cutler cut loose again on a storming "Orange Blossom Special", and the set ended with a barnstorming "Backwater Blues", DC showing off his Leadbelly influences.
The final part of the show, Dave Lambert replaced DC at the front of the BAO, which metamorphed into a rock'n'roll combo with energy to spare at the end of a fantastic night. Highlights for me - "Summertime Blues" really stomped, "Hootchie Cootchie Man" with DL on harmonica, leaving the guitar playing to Miller was brilliant; and the finale, a blistering "Johnny B Goode" was just to die for. A little comedy from the bar staff during this set - he came into the hall with a note warning of last orders and stood at the front pointing at it during an epic "Hey Joe".
We could have danced all night, as the saying goes, but sadly we'd reached our limit - the NPL's neighbours have to be considered - and that was that - everyone pretty much agreed that they'd been treated to a really smashing and special night of music and that the second of these (hopefully annual) events was even better than the first.
But for a select few of us staying at the Feltham Travelodge, there was more .... to our surprise the bar was still open so we hunkered down there to keep the Christmas spirit flowing. Out came the Ovation guitar again which was handed round between meself, Heather, Paul and Peter.
(Surprisingly the hotel staff didn't seem to mind: the bar is on the second floor and I don't think there are any rooms on the third floor, so it probably wasn't as anti-social an activity as it sounds.) So we played on and chatted into the small hours, eventually giving up the ghost at about 4.00am. Between us we had a go at most of the following: Stormy Down, Blue Angel (third part only), Young Again, Grace Darling, Beat The Retreat, The River, On Growing Older, The Battle (Paul can remember all the verses!), Benedictus, Further Down The Road, Nothing Else Will Do, Poor Jimmy Wilson, Hangman And The Papist ...... not all the verses were there, maybe and it was probably a bit rough round the edges by the end.
But that's what the sixties were all about ....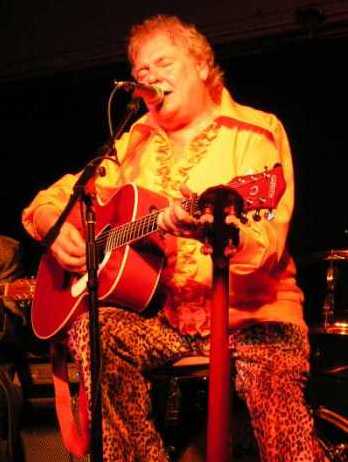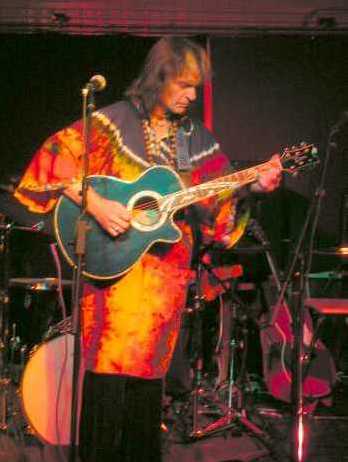 Photos by Dick Greener. More photos from Dick (until the real photographers get here ...
YOU JUST HAD TO BE THERE!!!!! - Review by Calli Bradley
Q - How much talent does it take to change a light bulb?
A – Who cares, the room was so full of talent, light bulbs were redundant!
Now we have established that not only am I awful at telling jokes, I am also incapable of writing them. First and most important part of the night - DC's outfit - Ad eundum quo nemo ante iit anteoccupatio Dick Emery - to the Latin Purists out there, please forgive poor spelling, mispronunciation, etc., but it sort of translates to - "To boldly go where no man has gone before except Dick Emery". There was a fair smattering of groovy outfits, a selection of "Prisoners", some far out chicks, an Aquarius Flower Chile, (great outfit Lindsey), beat nicks, followers of Kerouac, Mary Quant, Devotees of the Kinky Boot and many other 60s permutation you can think of. It was just a shame, that DL came as himself – sorry….what's that Pete, he did dress up, hey far out – he looked so natural. Some brilliant outfits, some great people, so already it was feeling as if it was going to be a fun evening.
Pete and I got there in time to get a pint and wander into the main arena to Turn On And Tune In to the Fabbo Strawbs. Great jacket Chas, now where have I seen that before, ah yes I remember, a celluloid representation made in the experimental economical chiller genre – "Bloody New Year" – fine representation of prudent film making!
The Acoustic set was a real gas - from the cool "Lay Down" to the far out "Ghosts".
Next was the intermission – pit stop and the bar and back to the arena for a Cosmic Experience that words alone cannot do justice to – YOU HAD TO BE THERE. OK, all I can say is welcome back Clare Deniz; Chas, oh Chas oh Chas – why do you not grace us with solos more often; Mr "Yo Yo Man" Neil - You Rock!; Miller Anderson Tamped us up, well and truly solid, and finally "Stairway To Heaven", the elevator to bring me down, has still not reached my floor! Pete has just added, not to mention DG, so I won't – just a little bit them, he proved he was not just a number but a fine fine musician and vocalist! The set was Crazy Man!
Now for my new experience for 2006 – DC and The Blue Angel Orchestra – oooooooh weeeeeeee – a hum dinger of a set. "The Young Pretender", (which always gives me a warm fluffy feeling as I live with Pete the YP), got us all getting down and getting groovy. How you can get so much talent to fit into a small hall and the roof remain put, who knows. As well as the usual suspects, I have to point out two newies in my world, Ian Cutler OberSmashing Fiddler (Cropredy is going to be a definite for 2007), and Miller Anderson – gone man, solid gone!!!!
Final set, DL and The Blue Angel Orchestra - to quote a fine Witchwood Wordsmith, Heather "Jammin" Malcolm - "Amazed anyone am I that can put order any words in last night after."!
YOU JUST HAD TO BE THERE!!!!!
O STRUM ALL YE FAITHFUL - Review and pictures by Lindsay Sorrell
Well I must be pretty much last with my words of waffledom tonight - (stop shouting hooray please, I do have feelings). Just as for Cosmic Calli, the whole happening was so far out - at least 10 stops from Waterloo if you please.
Ok – Strawbs Christmas Party itself - Pete "YP" Bradley summed it up when he said the night had been too good to write about, but I shall try my hardest.
Acoustic Strawbs set – the usual. (Usual magnificence that is). Next up - take one Dave Cousins, add a Clare Deniz: blend together beautifully for one very, very emotionally-charged set. Even the revellers towards the back of the long, narrow hall sensed there was something extremely special in the air, and as mentioned it was quite amazing that the place, which was crammed with some serious fun seekers who'd already been there several hours, was overcome by a pervasive hush - you really could have heard a pine needle pin drop (being a Christmas party). I must admit that the mental impression I'd previously formed of Clare was very wrong - tt was based spuriously on once seeing her play a lunchtime recital at St. Olave's Church, which is right next to The Corn Exchange where I worked for a while (marine reinsurance broking, ok yah??). I'd had one of those Strawb-obsessive moments on my daily power-zoom into work one day – seeing Clare's name on the church, due to play that lunchtime! Freakout! I went and watched her, along with a few rows of pinstripe suits and Sloane rangers, and hoped to say something about Strawbs to her at the end, but I didn't think she looked like she wanted to chat to anyone so I passed up the opportunity. My erroneous judgement was reinforced when someone (sorry, can't remember who) once posted on Witchwood that they'd spoken to her about her Strawbs days - and she'd replied that they were "sweet boys" but hadn't seemed to want to talk about those days. I assumed (due to her classical musical training) that she was being a little musically condescending but I was wrong, wrong and WRONG again. Last night I found her to be a really lovely lady to talk to, and so did several other people. Wish I'd had longer to chat but the aroma of chips was calling, not only that but there were half a dozen others who were obviously hoping for a chat with her. Do hope we have the pleasure of her company again.
Ok, this was meant to be quick – I seriously need some beauty sleep after last night/this morning, but I've GOT to give Chas' "Starshine" a mention. Not just because he slipped me that fiver, but because he really does have a superb voice which melded beautifully with his guitar accompaniment and captured the audience for some truly magic moments.
Right that's definitely it. I'm not going to mention Dave Lambert at all. Oh alright, he was as brilliant as ever, "Stairway To Heaven" completely blew everyone away, and the whole bluesy set at the end was phenomenal. Loved "Hoochie Coochie Man" (high praise, of sorts, for one who was raised on local geezers Dr. Feelgood and a few million clones). Neil Byford playing was a real surprise to me - I didn't know he did that sort of thing. Really enjoyable, for the audience and for him too by the look of it. We chatted about Kokomo afterwards; I have slightly hazy recollections from here on (caused by the wig I was wearing no doubt - a hazard not many people are aware of unfortunately) - I do remember telling Neil I saw Kokomo at a Reading Festival once as a midday opening act though – I know I liked them but can't remember why, I just remember they were good. I think we need to have that conversation again Neil.
Really enjoyed meeting Tom from NZ (we tactfully avoided asking about sh--p). Nigel B. was... what shall I say... yes "there" will do. He looked great in his Sgt. Pepper's outfit. Pete Rand had to ask where Harry was didn't he while I was trying to find Tom and Dick. Nice to meet Pete's wife Jane, and also Heather and Jackie. (Jackie is something of a reluctant star like myself I learned – she, too, shuns the limelight and has never let fame go to her head. (I SAID NO RED SMARTIES!!!) Jackie co-starred with me, for about a second, in the blockbuster 1983 Anglia TV programme about the Cambridge Festival (which also included an hour or so of Strawbs).
Nice as usual to catch up with WendyFlyingPig and Ian and their crew, and Pete and Calli (looking suspiciously like Pete and Dud on this occasion) were great fun. Ah yes, the fancy dress – I suspect Dave Cousins took his magnificent hat off for similar reasons to me taking off my beautiful, "almost naturelle" wig. Several people kindly relieved me of the duty of wearing it throughout the evening, rather than allowing me to suffer the searing heat, not to mention the "plague of mosquitos" itching. There may be the odd horrific photo to follow: beware! (Sue – about "those" photos. I said 50p "AT LEAST", remember - I am therefore open to negotiation). I must just say here how glad I am that Sue introduced Ian Cutler to Dave, he is such a great fiddle player. And Sue, you looked wonderful, and the way you organised everything and everyone was breathtaking. (75p - take it or leave it). Adie - I've just looked at your photos btw - absolutely excellent.
Great to see so many of the usual lovely people who frequent Strawbs gigs, too many to mention of course, but if you're lovely then you know I mean you. Particularly massive thanks to Lou and Bob for cramming everyone in to their motor for a lift back to the Travelodge when we dregs finally spilled out, it was a touching kindness which I'm sure brought tears to one man's eyes, and paralysis to his legs probably too.
We all had an absolutely fantastic time; thanks to everyone who contributed to that including the band, both paying and playing guests (Kevin, Tony Attwood, our Dick and The Blue Angel Orchestra who were absolutely incredible again), Tony Grimmer and his staff of course - in fact everyone involved with our little corner of occasional heaven, so cleverly disguised as an unremarkable pavilion at the edge of a cricket pitch. Those who couldn't be there for life's various reasons were greatly missed of course, particularly those whose reasons were of sadness of course – we all look forward to seeing you soon. This was only the warm up.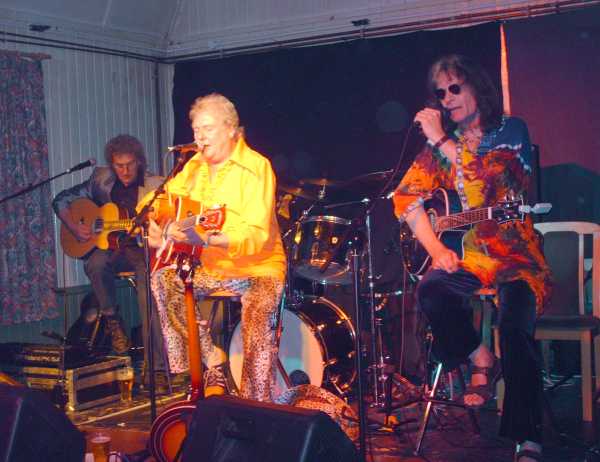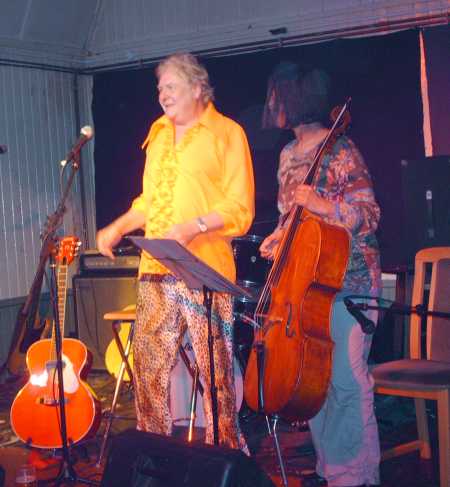 Photos by Lindsay Sorrell