Setlist
Cousins solo
Beat The Retreat
You Keep Going Your Way
I've Been My Own Worst Friend
The Man Who Called Himself Jesus
Dark Ocean
Higher Grounds
Avalon
Indian Fever
Cousins And Conrad
The Shepherd's Song
Grace Darling
Down By The Sea
It's Just My Way Of Loving You
Tell Me What You See In Me
Cousins, Conrad plus Dark Ocean
Deep In The Darkest Night
Deep Inside
Call To Action
NATIONAL PHYSICAL LABORATORY, TEDDINGTON, 31 JULY 2005
COUSINS & CONRAD AND DARK OCEAN STORM THE NPL TEDDINGTON - review by Dick Greener
[I'm doing this from memory so the running order is subject to amendment - DG]

A small but enthusiastic audience were treated to an enthralling and varied evening of music. There was a very enthusiastic German contingent of Conrad/Dark Ocean fans (but also obviously Strawbs fans as they knew the words) who'd made the trip over Friday night just to catch this show. All nationalities agreed that it had been a great evening.

Dave's opening solo set must have recalled memories of the old White Bear folk club - he picked his material largely from that era, apart from the country-tinged "Beat The Retreat" which he opened with, in deference to his chosen shirt for the first half which had a definite touch of the Grand Ole Opry about it. "You Keep Going Your Way" and "You've Been My Own Worst Friend", with Dave ending the mini-set with a crowd pleasing "The Man Who Called Himself Jesus".

Next up Dark Ocean, well some of them, quipped Dave as he introduced Conny Conrad and his two chums Mark Coughlan on drums and Eric Young on bass. They had the keyboards on backing tracks and proceeded to deliver a very loud but most impressive short set of Dark Ocean material, drawing on their new 2005 album Planet Paranoid (they performed the title track) and others - I particularly liked "Avalon", the opening track from their second album Oceana, which started off with some strong (backing tape enhanced) mass vocals. But golly they were very loud! Conrad played a cream Danelectro (which as Strawbs fans will know was the make of DC's first electric guitar way back in the late 60s).

A break and then Dave and Conny took to the stage for some acoustic duo work, Dave with his red Gretsch, and Conny I think playing Dave's old black Gibson. Dave's shiny white shirt got an outing for the second half. In some respects, the Dave and Conny duo is reminscent of the old Dave and Brian days, with Dave providing a strong rhythm and Conny jumping in with "fiddly bits"; but Conny is more rhythmically oriented than Brian, so there's a different dynamic between the two. But there's the same kind of loose feeling about the way they collaborate, with Conny finding the opportunities within the songs to add embellishments whilst Dave keeps the song going on rhythm.

A good start with "The Shepherd's Song", a welcome choice, and one that I've always thought would have suited Acoustic Strawbs, particularly the closing instrumental. (I think we have Jon to thank for that as he suggested it at that night out in Germany.) Next up "Grace Darling" was also very good indeed, though a couple of patches in the instrumental section where loose might have become a shade too loose for comfort. It was great to hear Dave take the middle vocal section of "Down By The Sea", appearing here without "The River" which is pretty unusual. The instrumental sections of DBTS allowed Conny to explore the song with various instrumental flourishes, before closing with the two playing the riff in unison. An excellent version and, though clearly not as developed as the Acoustic Strawbs' three hander version has become, no slouch in the power department.

"Deep In The Darkest Night" (for but not about Dave's brother Gerry who died a few months back) had some keyboard backing tapes with the Wakeman piano part and the instrumental ending. Dave, laying aside the guitar, delivered this moving song very well indeed, with characteristic DC hand movements emphasising the lyrics to perfection. The other number from the High Seas album from the duo was "Just My Way Of Loving You", with Dave back on guitar, and Conny adding runs and riffs.

Last but by no means least, another from Cousins' 60s songchest, "Tell Me What You See In Me", which had DC bouncing up in time with the rhythm as Conny kept up a barrage of guitarwork over the top.

The final segment of the show, though brief, was the most impressive of all. First, "Deep Inside" a song from High Seas album which didn't make my Top 5, but as a live performance was rather more impressive.

But last of all, the track that those who caught the sound check through the open doors were waiting for, "Call To Action". That band really rocked on this - and that's not to say that they'd not been pretty impressive before then - and Cousins rode the crest of the wave, screaming the vocals out over the huge driving band sound, the long sustain vocal, the third "will you heed the call......." in each chorus, cutting through effortlessly. Whilst Dave prefers on occasions these days to emphasise the lower, softer registers, this track, both on record, but particularly live, shows that he has lost none of that sharpness in vocals which is probably the defining Cousins/Strawbs sound.

Lots of grins all round, the German contingent bouncing (in some cases a little unsteadily) to their feet. A stonking end to an excellent night - well worth driving half across England for that song alone.

It would be very interesting to see what Dave and that power trio behind him could do with a few of the Strawbs classics - any lack of keyboards on "New World" could easily be made up for by some crashing power chords from Conny and the bass/drums mix have the power to back it up. "Hero And Heroine" could be a good one too. "Sheep" anyone ?
Photo from Adrian The Rock, click here to see more
GREAT NEW WORLD - Review by Calli Bradley
Sunday night at the NPL. A "Herrlich" of a night, complete with a united Europe, new experiences and unbridled entertainment. The evening started with Conny Conrad being delayed but to compensate the Gods shone on us, and Dave Cousins played an acoustic solo performance, which was a wonderful early bonus, very much appreciated. A corny description, but it was Magical especially when he sang "Grace Darling", a particular favourite of mine. An eclectic audience was made up of Strawbs fans and some of Conny's following from Germany - all enjoyed the impromptu performance equally.
Once Conny had arrived and joined the stage with the rest of his band, the passion these guys have for entertaining was immediately obvious. Conny's loyal eager German Fans complimented the enthusiasm the whole audience felt for an electric performance. I have to mention the Dark Ocean following, they were fun and added to the merriment of the evening. " Proust!"
The indulgences did not stop there. Conny & Dave took the stage for an acoustic session par-excellence. The set was made up of some tracks from High Seas, including "Just my Way of (Loving You)" and "Deep in the Darkest Night". A particular treat was the "Tell Me What You see in Me" which dates back to the All my Own Work album.
The evening was completed with Dark Ocean, Conny & Dave rocking the audience with an electric session, finishing with a "gob smacking" rock version of "The Call to Action" - I think it might have woken the neighbours!
A "sehr gross danke", (very big thank you), to Conny Conrad and Dark Ocean for allowing the more naive of us to experience Classic Rock Deutcher style and also to Dave Cousins for enchanting us with his solo acoustic session. A further thank you to Dave for sharing his passion of music with us by inviting Dark Ocean to perform at the NPL. (And of course not forgetting Tony and all the great work he does in making these evening possible). :0)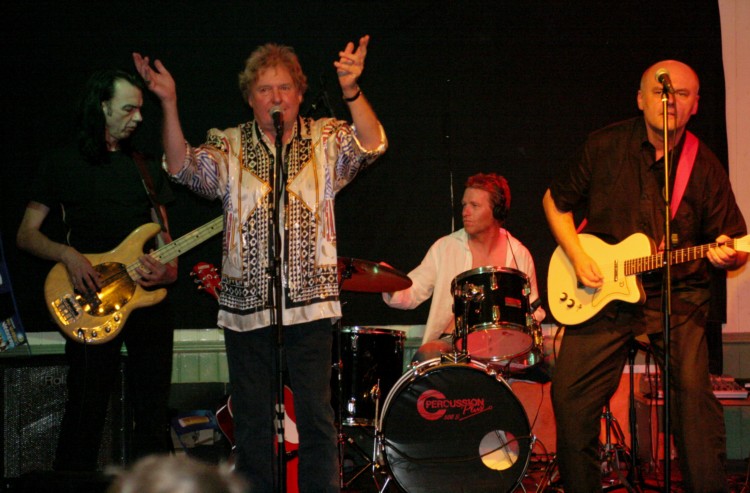 Photo from Adrian The Rock, click here to see more
PS Forgot to mention Dave Cousins' shirts - Legendary! Dave Lambert is really going to have go some.