SQUEALS OF DEALIGHT - Review by Lindsay Sorrell
As the large Witchwood faithful began to congregate around candlelit tables in front of the stage of the delightful piece of old England that is the Astor Theatre, Deal, a heavy buzz of curious anticipation filled the air. The evening's offerings had clearly generated considerable interest amongst Strawbs' fans, and even amongst muggles, as evidenced by the packed throng at the sold out venue. Such was the density of the crowd that it proved difficult for hardy individuals to fight their way to the bar (almost as if across the twin peaks of Kilimanjaro, thanks to the jam-packed chairs and tables), though some apparently managed to accomplish such a feat time and time again.
Prior to onstage proceedings, the audience was treated to the delights of Glenda, a fit and hunky transsexual magician in an alluring figure-hugging dress who entertained us with rope tricks at our tables, hinting at the faintest air of decadence which lay ahead. Speaking with Glenda (whom Nigel noted had very curly hair) afterwards I was asked the dreaded question "How old would you say I am?"; I panicked a bit but was about to risk all by saying "errrm…. 40's?" and was amazed to be told by Glenda that she will be 60 next birthday. (Sex-Change Surgery: 1, Sanatogen: 0 ??).
The audience having been duly warmed up and tantalised, a bespectacled and extremely authoritative looking Dave Cousins, as Master of Ceremonies, took to the stage as he did several times throughout the night to introduce a diversity of acts. Impromptu Swing, two young brothers (21 and 23) Joe and Josh Barrett (both also with very curly hair, as again observed by Nigel) and their guitars entertained us with some "Hot Club de France" jazz swing type sounding guitar playing – I'm probably describing their sound completely wrongly but that's how it sounded to me. I enjoyed the sounds they created very much, even though they had to contend with some technical difficulties early on. Several times I found it difficult to work out exactly how they were managing to make such a pleasant sound between the pair of them.
Pussy d'Amour gave us sophistication and glamour as s/he purred through various smokey, bluesy songs of the 1930/40's (not too good at history) including "That Old Devil Called Love" (I adored Alison Moyet's 1980's version – a snippet of on-topic personal information here – I occasionally spoke with Alison in her days as "Alf" when she was lead singer of the Screaming Abdabs, among other punk bands, who used to play regularly at Southend United's Shrimpers' Club on Sunday evenings in the late 70's. I mention this because….. Alison Moyet was a big Strawbs' fan, who owned several Strawbs' albums). Anyway, back to Ms. d'Amour: several male members of Witchwood complained that the seams on her stockings needed straightening as she smoked and sang her way through various numbers, though none was gentlemanly enough to offer help (to my knowledge). Very entertaining and good fun, in my opinion.
Fred Wedlock followed - I saw him a couple of times many years ago, when he and Strawbs shared the same management (if my memory serves me correctly) and appeared on various bills together. Many of his tales must fully deserve gold watches of their own for the amount of years of loyal service they have given, but he is no less funny for that. In fact, the nostalgic quaintness evoked by much of his banter adds to the pleasure of seeing him perform, involving tales of English folk speaking s-l-o-w-l-y whilst on their holidays in Benidorm in order to be understood by the Spanish and so on. It's very definitely the way he tells them! It was lovely to hear "The Oldest Swinger in Town" for the first time in many moons – oh dear, it's coming back to me now, I remember that following my tete-a-tete with Glenda I chatted with Fred, and for some reason related tales of my time at secretarial college. I told Fred that "Oldest Swinger" was frequently sung whilst I was there, with a few words suitably altered, by the class full of women as we got to grips with archaic manual QWERTY typewriters (in ancient mythology there was a common belief that "Woman = Secretary"). It was often followed by "I'm in the Mood for Shorthand", another Essex girl reworking of a great Nolan Sisters hit which must have been out at around the same time. The slightly bemused expression on Fred's face soon gave way to his endearing smile, as he hurriedly fled.
What else....Chris Ball of the Hoy pub, who greatly resembled the deputy headmaster at my children's school (in considerable contrast to Pussy) later took to the stage to play some wonderful piano. Several of us later wandered to the Hoy.....and then wandered back again as it was shut. Having assessed the situation, our ever-cordial hostess Geraldine spotted the opportunity to consider charging us for a midnight accompanied Ghost Tour of Deal, I believe.
Apologies for digression…...back once again to "A Night at The Blue Angel"; eventually the evening came to a climax as The Blue Angel Orchestra took to the stage. For Witchwooders there was great fascination to see and hear Miller Anderson, who had contributed guitar to both Dave's solo album "Two Weeks Last Summer" and also "Heartbreak Hill". Also performing with the Orchestra, along with Dave Cousins, were our very own Chas on bass, Howard Werth on another guitar (don't know what sort - it was green though), Ian Cutler on fiddle and Chris Hunt on drums, all sounding tremendous.
By this stage of the evening it was all becoming too much for me, and I was having difficulty remembering both what had been played and its sequence, though that's not to say I didn't enjoy every single minute of it. I did, and highlights for me had to be "Blue Angel" itself which was absolutely stunning, and also "Absent Friend" – which sits resolutely in my top ten Strawbs' numbers ever. Strangely enough I received a tap on the shoulder from Paul Brazier just as the first line of "Absent Friend" was being sung – completely oblivious to the smoke billowing up in front of my eyes, I was thankful to Paul for pointing out that somehow a piece of paper in the ashtray had caught fire – quite apt given the first line of the song!
I remember an excellent "House of the Rising Sun" among other delights (powerfully sung by Miller Anderson), and Dave "indulged" (his word) himself in singing some songs he says he's always had a yearning to perform, including a Leadbelly number (apologies for my ignorance at the title, but it sounded like "On the Road Again" which no doubt borrowed heavily from the Leadbelly number in the first place), and finished with "Falling in Love Again" as an encore (I think! Help!). Dave recounted a touching tale of saving up his pocket money to buy the Leadbelly 78, his first ever single, and cycling home from the record shop with it. The expectation and subsequent disappointment he must have felt as he placed it on the turntable for the first time, only to find it was cracked and wouldn't play, were not hard to imagine.
Sorry, I'm giving up now on trying to remember everything – I know the evening was recorded for posterity and hopefully we'll have a chance to relive the order of events and bonhomie eventually. I'm sure many others managed to keep a far better record of the proceedings anyway. The whole evening was undoubtedly an enormous success, and it was lovely to hear Geraldine receive much-deserved thanks from the stage for all her hard work in helping make it happen. Those thanks are very much echoed by the Witchwood crowd for the hospitality and warm welcome always given to us, not just on this occasion but whenever we all have the pleasure of meeting up.
Much joviality and socialising followed at a variety of locations, and we were all left hoping the pledges of similar events in the future come to fruition. Once again, the swollen ranks of friendly Witchwooders make it impossible to name everyone individually; however, I shall be eternally grateful to Nigel for my outward journey and Ali for the home leg, kindnesses which made it possible for me to be there. Neither plied me with extra-chewy toffees in the way Carole usually does, not sure why she does that as it makes it difficult for me to speak, but I'm not even going to mention that oversight. Jon "Full Bloom" Connolly (sp?) definitely deserves a mention, having travelled over from Canada specifically for the show, and thankfully managing to take in an acoustic Strawbs show as well. Jon told me he'll always travel for something a bit out of the ordinary, so maybe next time, Ladies and Gentlemen, Dave will be presiding with gavel, as Olde Tyme Music Hall chairman of h'amazing honorificabilitudinatibus …. ooooooooooo (that's meant to be an Olde Tyme Music Hall style "oooooooooo" – you try typing "oooooooooo"!!)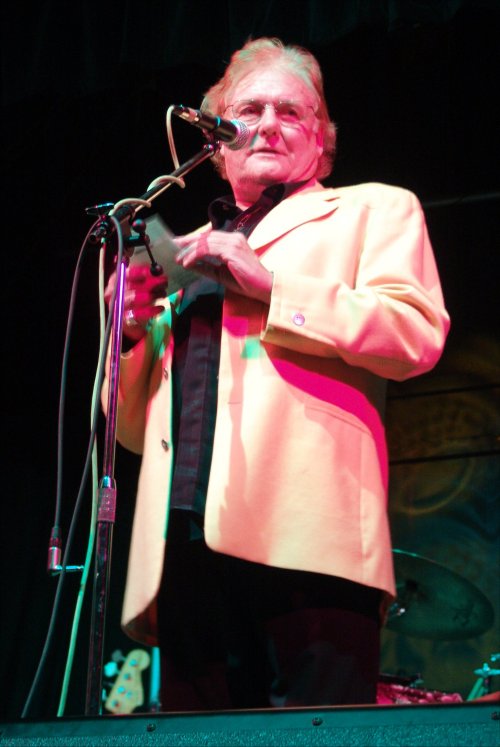 Mein Host Herr Cousins

Photo by Alison Brown - more pics from Ali.
Comments and pix from Les Cotton
Having stayed over at the Hotel following Saturday's party, we had a leisurely, if long, drive the 200 or so miles across from Birmingham, via the dreaded M25 (Aaargh!) to the lovely resort of Deal. Approached along the coast road from Dover, the scenery is breathtaking, first time I've ever seen the White Cliffs for real. It really is a beautiful little place, like going back in time, narrow streets filled with fisherman's cottages, most dating from the 1700's.
Rendevous as arranged by Captain Bennett in The Ship at 5.30pm, already a folk club type singalong in progress involving the locals. We commandeered the back room of the bar, and got the beer in....well several, actually. Amazingly enough, we actually managed to EAT on this occasion....normally gets forgotten due to drinking! Lovely fresh cod and chips, eaten as they should be, whilst strolling down the street, haha. Walked to the Astor Theatre round the corner, and met up with Jon ("Full Bloom") Connolly, flown in specially for the gig from Canada....also present, Sue and Mike Holton, DG, Ali, Lindsay, Nigel, Paul and Juliet Brazier.
The gig was certainly, different....in a good way:-) The Astor lends itself to a 1930's theme night, with its lovely old "music hall" type stage. Entertainment began before the show with wandering performances of card/rope tricks etc as detailed in Lindsay's report......the band were terrific, stunning "Blue Angel", Miller Anderson took the roof off with guitar/vocals on "House Of The Rising Sun", and the band were clearly having great fun all night. Ian on electric fiddle was an inspired choice too.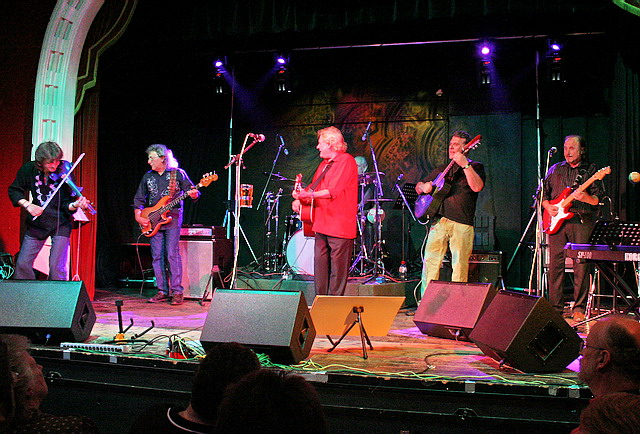 The Orchestra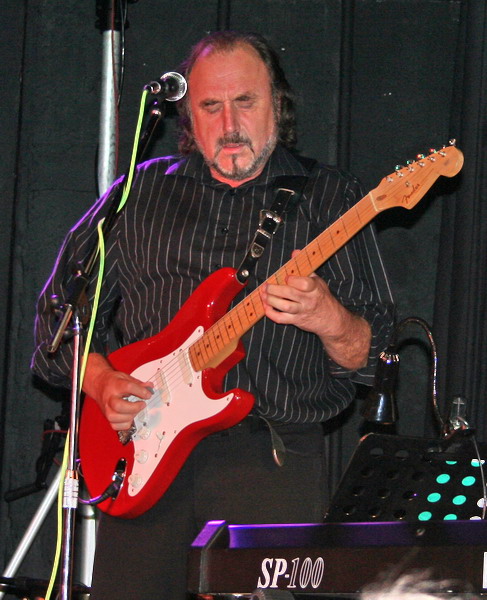 Miller Anderson

Photos by Les Cotton - more pics from Les on Strawbsweb.

Les's own photo page is up now at - http://www.hilltek.org/strawbs/deal06/.
A RAMBLE ROUND DEAL - Ramblings from Nigel Bennett
On to "Deal", or "no Deal" as it may have been for one 'Wooder rescued in their hour of need by some kindly attention the night before. On to our intended happy hour meeting at 5.30 in the Ship. Sue and Mike Holton were already well stuck into their choice of amber fluid by the time Dick, Ali, Les, Sue, Lindsay and me arrived and took over the bar in the rear of the building. We were joined swiftly afterwards by Mr and Mrs Brazier and a man and his dog, but this time not a black Labrador. I held the kitty (but not for long) Tales of another pussy to follow.
Had a few drops of what we fancied, before heading for the chip shop - which was closed so had to find another to satisfy our needs.(best laid plans etc.) Started queuing but surprisingly not quite first in the queue, but were close enough to be a near second.
Enjoyed the pre show delights of the transsexual - is that right? I didn't get that well acquainted, but nice to know later that evening that the masculine side hadn't completely disappeared. Certainly worked a trick or two but how mind boggling to see the knot tied and then slipped like that.
I am pretty slow at getting this together so others have covered much of the detail although with my lack of cranberry juice I thought the running order may have been
Glenda (I'm still wearing my patch - oh how she's changed)
Joe and Josh. (Curls a plenty for those that have a leaning that way)
Pussy D'amour (So it wasn't only me who noticed she hadn't dressed properly , but I certainly wasn't going to tug at the seams, they may have ended up bursting out all over)
Fred Wedlock (he has been married for 40 or so years so rather appropriate surname - it seems) You see I know every ones intimate secrets, and that he's still one for the birds - remember the actions" terns" , "starlings" etc.
The Blue Angel Orchestra (What can I say - it was all it was meant to be and they brought the night to an end in a triumphant fashion)
The Witchwooders added their own entertainment to the evening with their own little pyrotechnic display brought a "dry ice" moment until one very, very brave soul took on the role of fireman Sam, but without a cat by his side, as smoke billowed through the hall.
After our show meander through the back streets of Deal, seemed to threaten 4 local youngsters who were a little ebullient after their night on the town and I heard one remark rather concerned about their welfare - "blimey there's load of them !! ". Well 18 of us, was enough to make sure the odds were in our favour and make they all got back to their homes safely with out any incident and us back to the theatre to carry on the celebrations.
This was a memorable weekend indeed. Thanks must go to all who made it possible. I know there are so many who should be thanked and recognised. I cannot possibly mention you all, but to Bob and Lou [for the previous night's show - DG] and I believe, Geraldine for a lot of work in support of Dave to make Deal happen, grateful thanks and appreciation.
DOWN BY THE SEA - Review by John Connolly
(continued from Part 1 - Halesworth to Twickenham)
The next day I caught three trains, a tube and a bus to Deal in Kent. In my lifetime I have never ever been to a town like Deal. The house Dave Cousins and his beautiful and delightful partner Geraldine Parkinson live in is a building probably dating to the 1600's. Everything including the town looks and feels fantastic. That night I got to go to dinner with Geraldine. (The ever hard working Dave Cousins was playing a private gig that night, after doing a lunchtime gig in Twickenham). In the part of Deal where they stay, the roads are narrow with no garages visible. (I haven't a clue where everyone keeps their cars.) Geraldine and I did a little pub-crawl before dinner and she introduced me to several of the interesting and colorful characters that live in that part of town. I had an absolutely fabulous time that night. I came away feeling that the historical character of the town, the eccentric and fascinating characters that I was introduced to, and Geraldine herself must be ever inspiring to the man I consider to be the greatest song writer of this age. I've found it very hard to describe the area where they live beside the sea, because words really don't do this place justice. The closest analogy I can come up with is, do you remember the very English village with all the eccentric characters in Patrick McGoohan's the prisoner TV show in the sixties? It reminded me a little of that, without any big brother or those big balloons coming out of the sea.
The next day awaiting the show, I settled a craving I had harbored for 30 years to eat some whelks again (not as good as I remembered them) and had fish and chips in paper looking out over the pier. The weather was lovely, I asked the pier attendant if I could have the Blue Angel orchestra poster that was behind the glass. He told me it was owned by council and thus not possible.
That night I went early to pick up my reserved ticket to discover that it was not there, and that the concert was sold out. I had called a week ago to reserve and called back to confirm, all from Canada, twice to the record store and once to the theatre. Now no one at either place could recall the conversation. Geraldine had told me the night before that I would be a welcome guest, but I always feel so guilty as a guest, I respect the expenses for promoters of the events and money must be made if live acts are to continue. Fortunately, Dick Greener came to my rescue and let me in. As they had lost my reservations, I felt no qualms about getting in free, and wondered how I would have acted after traveling all that way and didn't know anyone to get in. The Theatre was packed for the concert. I sat at a table with Dick, fellow Witchwooders Alison, Lindsay and Nigel. Behind me were two Witchwooders that I know were as mad as me - Les and Sue Cotton, who I met a couple of years ago at a Strawbs concert in New York who had done the reverse journey across the Atlantic to see a show in that state.
We all had different impressions of what to expect. I had come expecting to hear most of the Two Weeks Last Summer album. What I didn't expect was Dave Cousins to introduce the show and ask us to imagine a club in Berlin in 1939. I wonder if he sees our current age as similar to the time before WWII.
There was a variety of acts, duelling guitarists that did not speak to the audience but played Latin flavored tango jazz better and like no other I have ever heard before. There was a Magician named Glynda that walked amongst the crowd performing card tricks, and a transvestite artist name Pussy d'Amour a la Cabaret in stocking tops and smoking a cigarette in a holder with a voice that crossed over into both sexes. Fred Wedlock did some sing along comedies that were just fantastic and fun, and then Dave Cousins came on with the band that included Ian Cutler on fiddle, Chas Cronk on bass, Chris Hunt on drums, Howard Werth on rhythm guitar, local bar owner Chris Ball on Piano and Miller Anderson on lead guitar.
The set opened with "The Young Pretender", (aka "Bring Out Your Dead"). Dave's voice was in great form and Ian Cutler's fiddle really helped propel the song. On stage, Dave promised to play songs that hadn't been heard on stage before. He played his influences, a terrific Lonnie Donnigan number, songs he had always wanted to sing, a blistering blues number. He let Nigel and Miller Anderson all take their spotlight. Miller Anderson was amazing when he took on "House Of The Rising Sun", it was like you'd never heard it before. "October To May" was just incredible. There are several recorded versions of this song - the Welsh choir on Two Weeks, the more rhythmic feel on Hummingbird. The concert version was more similar to Hummingbird, but different again and lovely to hear in concert.
There were tears in women's eyes when Dave sang "Can You Believe", off the Hummingbird album. An absolutely stunning track that should be covered by a mainstream artist to get the recognition it deserves. The band was well up to "Blue Angel", the centerpiece of the set. Miller Anderson is a terrific guitarist, with his own unique sound, evidenced on "Two Weeks Last Summer", and is evident on everything he played this night. I would like to see him again.
Dave closed the night with …wait for it…."Falling in Love Again", that's right, the old Marlene Dietrich song. He totally reinvented it. Not campy, not corny, but lovely. A different and unlike any other version I have ever heard. It was a lovely close to the night, which by the looks and feeling from everyone in attendance, was a special and entertaining evening.
Just as I was leaving, Geraldine came over and gave me the rolled up poster I had been hunting for. She told me it was signed. I was very grateful, when I got to my hotel room to unroll it, it had been signed not just by Dave Cousins, but by every performer who was there that night. I couldn't believe she had done that for me. When I get home I will have it framed and hung on the wall, a terrific memento for such a wonderful trip.