BURSTING AT THE SEAMS WITH TALENT (14/15 MAY) - Review by Pete Bradley
Not just one Strawberry Fools gig, but two on successive nights!
As their name might suggest, the Strawberry Fools (or just Fools to their friends), are a Strawbs tribute band. Unlike many a tribute band, though, they do not try to imitate, but to honour. They both compliment and complement the Strawbs. As well as playing several of the Strawbs more well known songs, they have tried to include many rarer gems amongst their set list, so several of their songs are tracks not normally played live by the Strawbs.
These two gigs were the Fools first tour, of which, hopefully, they'll be many more. They did play a short set once at a Strawbs Xmas party, and they were due to play a set during the Strawbs fortieth celebrations, but had to withdraw due to illness. Considering that this was their first time on the road, and considering that the band members are based all over England, so rehearsals are both difficult and expensive, they were amazingly good.
Aldermaston appears to be almost the perfect English village. Very beautifully bedecked with spring blossom and not too far from civilisation, with a very sweet little parish hall. Apparently, to book the hall there was a maze of health and safety hoops to jump through, but luckily the keyboard player, Pete Rand, is a trained First Aider, so that helped swing them the venue.
At Aldermaston they started the show with a few solo spots from band members and friends, opening with Dick Greener playing his own song, "No Crocodile Tears". He was followed by Kevin West, (one half of the duo Wychwood, more of whom later). He played two songs, beginning with the Strawbs classic, "A Glimpse Of Heaven", followed by a composition of his own, which I believe is called "Five Tons Before Home" (apologies if I've got that wrong). Ian Rand, (son of the Fools' keyboard player) continued. He played two very beautiful songs, the first of which, I believe, was called "The Nest" by Jose Gonzalez, and the second was "Heartbeat" also by Jose Gonzalez. He has a lyrical, soft gentle voice, and a skilled way of simultaneously playing both rhythm and lead with his guitar. He will go far. This was his first ever live performance and it was a very accomplished performance.
The next solo spot was Ralph Tonge, who played 10cc's "I'm Not In Love". Totally acoustic without any of the electronic wizardry of the original, but every bit as impressive. He was then joined by fellow band members Dave Claridge and Dick Greener, for a rousing version of Stealers Wheel's, "Stuck In The Middle With You". Dave Claridge, ably assisted by Ralph, then took over with Dylan's, "I'll Be Your Baby Tonight". Dave then swapped his guitar for a ukulele and played a song that I'm afraid I don't know the title or history of. It might be his own composition. " ..even when it's raining, stop all your complaining, I've got a ukulele."
Two very full sets by the Fools followed, packed with some of the most beautiful of the Strawbs songs. For me, one of the highlights was "Deadly Nightshade", from the Strawbs much overlooked album "Deadlines". Another highlight was "Forever", originally sung by Tony Hooper, who was present in the audience. Apparently he said afterwards that he thought that the Strawberry Fools' version was better than the original. High praise indeed. Most humorous moment happened during "Tell Me What You See In Me". Dave Claridge was playing bongos, (as well as guitar, vocals and ukulele, he also played bass guitar and dulcimer throughout the performances), and had positioned his microphone vertically above his lap to capture the sound. Of course, a few bars into the song, gravity took over and the mic dropped into his groin.


Photo by Pete Bradley
The Hythe Centre at Staines is a fairly new, purpose built entertainment centre with two function rooms. The room we were in was extremely well lit, and had very good acoustics. I don't think the room is very well sound-proofed though as we could hear a plane fly overhead at one point, but as far as I know, the neighbours don't complain. Not with music this good, anyway. The first set at Staines opened with four songs by the acoustic duo Wychwood, whose name presumably was derived from the Strawbs' album "From The Witchwood". Amongst their set were two Strawbs songs: a fairly recent song by Dave Lambert called "Cold Steel" and an old Sandy Denny song, "Who Knows Where The Time Goes". Wychwood are Kevin West (who played a solo set at Aldermaston) and Lyndsay Hemphill (currently five months pregnant so excused from not playing at Aldermaston). They also played two of their own compositions, one whose title I didn't catch, and one called, "Icons And Imagery".
The second set was opened by Roy Hill. He mainly played tracks from his forthcoming album, "Switzerland", which he has been working on for a while now, but release seems to be imminent. He dedicated the first track, "Happiness" to Brian Willoughby and Cathryn Craig (both present), by quipping that he was a better guitarist than Brian and a better singer than Cathryn. Brian, in good humour, retaliated at the end of the song by turning out the lights.
Switzerland sounds as if it is likely to be much darker than Roy's usual material, but just as good. Between songs though, Roy threw in some of his usual witty set pieces, such as "Sheep", and "Gas Mask", which kept the audience in fits of laughter.
The Fools were tremendous. The sound and lighting was definitely better in Staines, but at both gigs they excelled themsleves. Dick Greener, Dave Claridge and Ralph Tonge took turns with the lead vocals and harmonies, and on Chas Cronk's "Starshine", Les Cotton swapped his bass for an acoustic, and took the lead vocals. Throughout, the keyboards were brilliant, particularly on "Temperance Of Mind" (or "Temporarily Out Of His Mind" as Dick called it) when Pete Rand could have given Rick Wakeman a run for his money. Les kept up a storming bass rhythm, particularly on "How Everyone But Sam Was A Hypocrite", where the bass was the lead instrument. Seemingly effortless lead guitar ("twiddly bits") from Ralph, a complete mastery of a wide variety of different instruments from Dave, and Dick swapped between percussion and guitar throughout. Great humour from all, particularly from Dave, in introducing the songs.
All told, a band bursting at the seams with talent.
---
YOU TALK OF ME WITH ACID RAIN (15 MAY) - review by Nigel Bennett
Sadly I was only able to make this show and not the one the night before at which apparently all sort of microphone drooping and other shenanigans happened.
A band on the wagon, sworn to no Bacardi until it was all over, I rather suspect there may have been just a little ad libbing on that front, as a few cans of liquid refreshment were cast to the floor inside a bin upon arrival.
Onto the night, and a goodly gathering of friends, musicians and spiders witnessed some fine playing which kept us entertained all night long.
Claridge fronted the band (most of the time) hardly dressed in his vibrant grass snake green but resplendent in what could be termed his royal gardening attire, forestry green and invisible within a forest, or stalking for a dear. He certainly cut a dash with his bongos between his legs.
To the left, "Pete the Fool" tinkled away on the old ivories like he was a Wakeman in waiting,. If the truth is known, it probably wasn't ivory, more like plastic or bakelite, although as no chemical testing was allowed on the night, it may have been either. Pete was wearing the designer t-shirt emblazoned with the Fools logo (available from Foolish enterprises at £8.) His mug also appeared a few times on the interactive screen used as a backdrop as sponsor of tonight's event. Next time a BT directory, or is it yellow pages drops through your door, be thankful, you helped the show, remember the Fools and look up their number.
In the midst sat the "Dick", being a Saturday night I imagine there were many plaudits coming the way of a Dick way right across the country. Vocalist , guitarist and yes…historian par excellence about all things like the development of the western world, but majoring on lecturing everyone on the history of tonight's songs and their place in the history of Strawbs albums. "Let the worrying start", if any of it filters out.
Sitting to the left of centre, but to me on the right where the Prince is normally seen, was the King of the lead guitar Ralph the "Tongo" Fool. Studious interpretations and little tinkles were very much in evidence through the sets, enhanced by the use of ebow and slide in very special places. Very special places indeed and the excellent inserted additions made those special places, special.
Finally, there was Les the Fool Cotton, bassist and interpreter of gadgets. How I loved the bits where the bass shone through and thumped me square and fairly in the ear. But that is not the full story, a quick change – of position ! saw Les swap places with the green cross dresser taking the lead for Starshine…OK there may have been no Angel wine, but the voice rang out sweetly.
A goodly gathering, oh I have said that once, spread from far and wide across the globe and UK, indeed fans had even travelled from Holland for this special weekend, although Roy Hill trumped that as he had a fan that had flown… OK, really got them them bussed in from Germany which is a little further, just to show who is le boss.
While seasons change… yes well
While seasons change we were treated to two exhibitions of this line at the very start as the band found their groove and then flowed seamlessly from classic to classic, except of course for the little history lessons in between.
Some great interpretations of songs and the harmonies were absolutely spot on. When you were a child, you probably didn't know the Fools, but if not, tonight by this second number you certainly did. This is no foolish operation, even if in name, certainly not in their playing.
It was good to hear so many tunes that don't usually get a live airing and as I never copied down a set list, I'll leave that to another compiler or the historian in residence.
Whilst a Strawberry Fool or two may have been the main attraction tonight, we should not forget the support of Wychwood or the undoubted talents of Mr Roy Hill who had the audience, both new and old switching between laughter and intensity of songs… in the split of second….in much less time than it takes to do the atom. What a coop.. Baa !
I picked up a copy of the Fools first CD release – Antiques and Cheerios. When I said "picked up" , I would have done, but the security around the merchandise was so tight, ever seen the size of their bouncers ?? never got my fingers any where near it. …nor me … so I went along and bought one.
Got to thank the Fools for the drinks and e mail check on the cover and also the free advertising, but if you think your e –mails are indecipherable you should see the ones Mr. Hill sometimes gets after my Friday night on the cider.
Ever the glutton for punishment I thought I would listen on the way home. As if an evening the company of Fools wasn't enough, I was all set up for that little extra. A very fine album it is too, with one or two or three or four originals. The only complaint I have is that it is so long, by the time I turned into my drive it was still playing.
So the answer would be to either slow down a bit or throw it out of the window before I get back. Certainly not the latter, it's available,…… again from Foolish enterprises (£7 – plus postage: contact Dick Greener) and well worth my recommended investment. It may become a classic….no, it will become a classic.
When is the Best of the Fools compilation coming out ?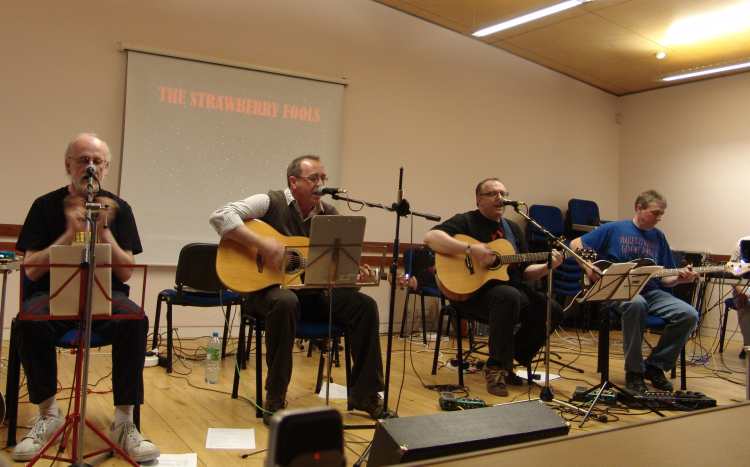 Photo by Alison Brown - more photos from Alison
---
STRAWBERRY FOOLS FOREVER (AND NOTHING TO GET HUNG ABOUT) - Review by Lindsay Sorrell
Having seen The Strawberry Fools blossom from early "Bilston strumalongs" into the polished outfit they have become I looked forward to their two recent shows with great anticipation (apologies for lateness of this review - it's been one of those weeks!!)
First stop - Aldermaston, and what a surprise that was. I had never realised it was a place of such English character and beauty. More beauty lay within the Village Hall where the Fools were busily preparing for the first of their two concerts on this mini tour when Ali, Steve Pritchards (first spotted loitering in the Reading Travelodge car park) and I arrived. Several people were already seated around tables and I was introduced to Ralph's parents, who very kindly allowed the Fools and me to take over their Yorkshire home earlier this year for a weekend of rehearsals. Marion was over from Holland so it was great to catch up after meeting at Strawbs' 40th, and various other usual and less usual suspects were waiting in anticipation of the evening's entertainment. Les showed me the impressive display of merchandise, which included his own solo CD "From Northern Slums to Western Dreams", both Dick's efforts with his other band (The Swiss Cottagers), and the Fools' own " Antiques and Cheerios". The cover is a must for any Strawbs fan with a sense of humour, and the contents are likely to leave those same fans admiring the excellent interpretations of over 20 well-loved Strawbs songs.
The concert was kicked off by various admirable performances which put everyone in the mood for the main course - Dick bravely took the first slot of the evening with a great performance and was followed by Kevin West (one half of Wychwood, seen by many play a fine set at one of Strawbs' Christmas parties) then Pete Rand's son Ian - seeing him was a first for me, and for everyone else including himself apparently! Any nerves were well-masked by his supercool performance, and the general consensus was that he has a great voice and some very interesting guitar playing. Very promising. Ralph Tonge, another little-known (as yet!) talent then took the stage, after which he, Dick and the inestimable David Claridge ended the first part of the proceedings.
On with the Fools...through being present at various rehearsals and even more embryonic pre-rehearsal occasions I have had the pleasure of watching these guys emerge, in some cases, from painful self-doubt at their musical abilities and blossom into the confident souls they are now. Insufferable egos now in fact. No, I'm only joking!! It has been fascinating to watch how successfully everything has come together through a combination of hard work, fun, and a great love of the music they play. I won't go into setlist details as they have already been given, and I couldnt remember them anyway, but song after song was performed beautifully and the band members' collective and individual talents shone through. I reflected on how good it must feel for songwriters when others choose their songs to cover.
During the break it was lovely to chat with many of the gathered bunch, including various family and friends of the Fools, Strawbs fans (special mention for Marion all the way from Holland!) and Tony Hooper and Elaine Charlson who both declared their enjoyment of the evening's proceedings. Tony mentioned having particularly liked the Fools' version of "Forever", and also had a good chuckle at the cover of the band's 22 track album, "Just a Collection of Antiques and Cheerios". Who couldn't?! (Tony and Elaine have a new Misalliance album in progress, by the way - I'm sure details will be on Strawbsweb when more is known.)
Eventually it was back to the hotel with The Fools, where several hours were spent mulling over the evening. What a high everyone was on!
Next morning and we were off, in dribs and drabs, to Feltham. As we had a couple of hours to kill between leaving Reading Travelodge Towers and being allowed into the Feltham Funpalace we decided to head over to The General Roy, scene of the pre-40th Strawbs Anniversary gathering. Suitably refreshed once more we checked into the hotel, watched Chelsea win the FA Cup, met up with various other supporters of the Fools and it was off to Staines for round two.
The party atmosphere at The Hythe Centre soon began to grow as Fools' friends and acquaintances began to drift in - Iris from Germany was already in attendance tucking into fish and chips with Celia and Roy (another treat on the evening's menu); Marion was resting her feet after some heavy duty walking around Staines, and Brian and Cathryn joined the growing crowd. Another night of great musicianship and homage to Strawbs' music followed. Tonight Mr. Claridge took the time to explain the band's dubious history and how several of the albums had come together, aided by a screen backdrop showing images of their iconic albums. I'll say no more - you had to be there, as they say!)
Finally, two Foolish shows superbly done and dusted there was a warm glow as the band members had surpassed what they had set out to achieve. The band and audiences alike had enjoyed themselves immensely. Neil and Sue kindly gave Ali and me a lift back to Feltham where we partook of nightcaps in the all-night bar (by prior arrangement with Mr. Greener), and before long everyone had drifted back to savour every last drop of the weekend's euphoria. Presumably it also made a pleasant change for Neil to relax straight after a gig while others had the gear to pack up! The Fools all agreed that feelings of relief that the gigs had gone so well were matched by feelings of sadness that they were over.
Until the next time...
---
&copy 2010 Strawberry Fools/photographers