DON'T SAY GOODBYE - REVIEWS AND COMMENTS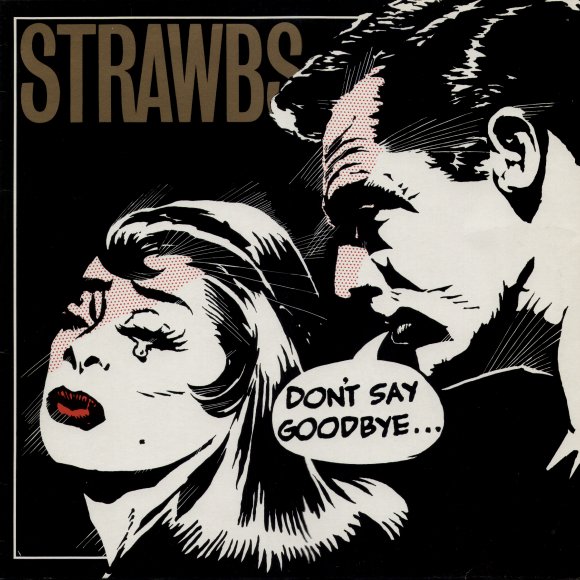 Contents
Back to main Don't Say Goodbye page

THE BEST POST A&M STRAWBS ALBUM - Ken Levine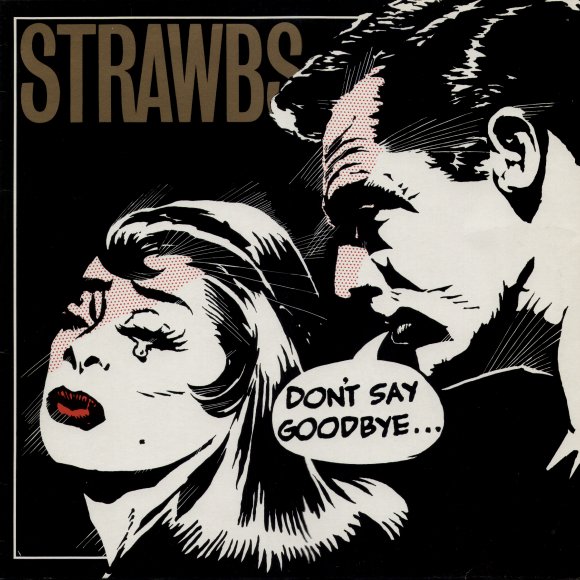 Although I learned later that this was in some ways a retread album, since three tunes came from the Heartbreak Hill era, to me it was in the vein of old style Strawbs without sounding tired, and I would rank it as the best post A&M Strawbs album. At the time, I lived in Toronto and I recall a very favorable review from the Toronto Star.
For me, for some reason "A Boy And His Dog" was a follow on from "No Return" on Deadlines in structure, but with much more biting lyrics and, being none too fond of dogs of any species, I take delight in the song. The big difference here from any other Strawbs album is the work of Brian Willoughby on guitar in the last minute or so. To my ears, he is technically by far the most proficient lead guitarist the group has ever had. I don't believe Dave Lambert could play those notes at that speed no matter how hard he tried. I am not saying that Lambert is less effective, just that he hasn't got the fingers to do what Willoughby can. This was evident already on Old School Songs where I think Willoughby's acoustic lead alone is worth the admission price.
Let It Rain" is a Cousins ballad with gorgeous keyboards and high emotion at the end, a style last plied on Ghosts with its staggeringly beautiful closing pair of tunes. I also love the female backing which works incredibly well and the lead guitar is sweet especially at the end. I was utterly shocked when I heard the version that closed Heartbreak Hill years later, totally lacking in warmth and with a completely absurd vocoder break.
I will get some argument here but I prefer the tight fast arrangement of "We Can Make It Together" over the Heartbreak Hill version. I especially think the ending is one of the Strawbs best, confidently forceful and sudden without being jarring, compared to the protracted ending of the Heartbreak Hill version.
The instrumental is very pretty and a departure for the group, enhanced again by Willoughby dexterity especially in the middle break. Whoa! What was that. It reminded me of some of the Steve Hackett work I have heard. And I loved "Big Brother" at the time of release but am more lukewarm about it now, although it's still pretty bouncy and I thought Hud sings well.
"Something for Nothing" shows more of that bite. I am not surprised that it is about the record industry - I think a number of Cousins' songs are. It features some fine synth from Chris Parren, but this song, too, has not held up as well in my esteem over time.
The three closers, however, are quite another story. "Evergreen" is a real gem, a religious but not preachy tearjerker with Hooper at his best and Cousins backing judiciously. It is only slightly marred by the unnecessary appearance of an out of place lead guitar in the middle. "That's When The Crying Starts" was the only one to receive any significant airplay in Toronto. In fact I heard it on the radio before I even knew there was a new Strawbs album on the way. The beginning is oddly like that of "So Close And Yet So Far" from Deep Cuts but that's where the similarity ends. I always found it deliberately melodramatic in the most delightful way and the lyrics, melody, and arrangement are all top notch. I remember Cousins performed it in Toronto in 1984 after asking us if we wanted a new song. No more needed to add about "Beat The Retreat" except let's hear more along those lines.
In sum, an album that is close to the quality of the glory years and better than anything attempted in the late 70s because it sounds like the group is playing within the style and production with which they are comfortable, not to please some 4th rate label or Rupert Holmes or Jeffrey Lesser.

THE ROAD LESS TRAVELLED - Review by Steve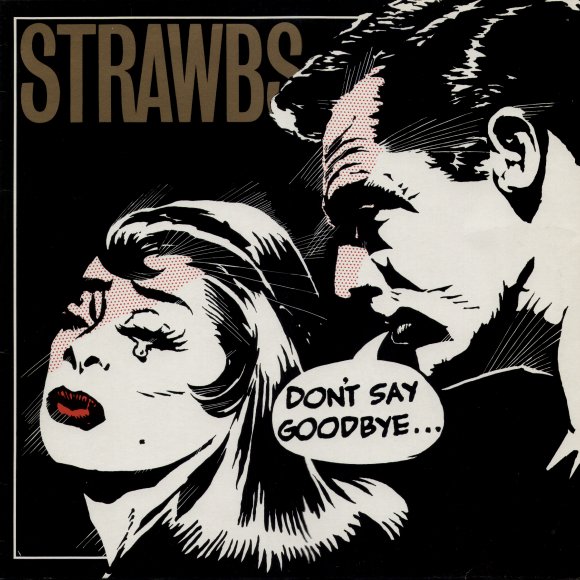 After an extended hiatus from recording the Strawbs re-emerged with Don't Say Goodbye in 1987. Released as an import, it received little if any fanfare in the U.S. and I was quite surprised to actually find a LP pressing of it. Not knowing the particulars of why the band had stopped recording after Deadlines (the last official U.S. release), and had heard the acoustic Old School Songs collection from Dave C. and Brian W. I had retired my Strawbs LPs and taped my personal favorites for future use.
My initial impression of the album cover-art was some what luke-warm, but with all the previous albums they recorded, I realized that this was one that would take time to focus on, and to absorb the NEW music. This wasn't the rock band of the past, though after seeing Dave Cousins, Tony Hooper and Richard Hudson listed as players, along with Brian W. and the others, I felt relieved that I had made a good purchase.
"A Boy And His Dog" got the proceedings off to a good start. A fine up-tempo song as it is now, didn't exactly thrill me then. The hard synth sound and heavy drums didn't seem to fit with the lyrics and was distracting.
The next two songs; "Let It Rain" and "We Can Make It Together" are re-makes from the Heartbreak Hill set that was unfortunately pulled fron release in 1979. This is the sound that I wanted from a Strawbs album, the former is a somewhat slower version and a beautiful song over-all. The latter is a more up-tempo take, and has the chorus lines sung in consecutive sequence with the verses. That meaning verse 1 = 1 chorus, verse 2 = 2 and so on.
"Tina De Fada" and "Big Brother" are Richard Hudson's contributions to the album, a rather somber instrumental that, if nothing else is pleasant to listen to. Kind of reminds one of the Santana instrumental passages a bit. And a song that's in the same vein as "Part Of The Union" from Bursting At The Seams.
"Something for Nothing" is also a remake from Heartbreak Hill, after hearing the original version with Dave Lambert on guitar, this one is almost identical. Now I don't know, but it gives the appearance that some of the original backing tracks may have been used. "Evergreen" features Tony Hooper on vocals and is one of the best songs I've ever heard him sing. A slow haunting ballad, that's quite effective.
"That's When The Crying Starts" gives the album its title and is probably one the best songs Dave Cousins has ever penned. The line 'Some guy will make a fortune with a remedy for broken hearts', never fails to invoke a sense of loss. Which is how I felt when the band broke up for all those years.
"Beat The Retreat" closes the album, and for all purposes, should have been left off. Just can't seem to appreciate this song at all, and is anti-climatic to the overall sound of the album.
In all fairness, the album was OK, I didn't care much for the opening or closing song, but enjoyed everything in between, with special mention of the remakes and the title song.
With the CD version coupled along with Ringing Down The Years on RGF I feel that Don't Say Goodbye was not designed for the general public. Though, some tracks have a certain radio-friendly sound, the brooding lyrics are for the fans of the Strawbs who can appreciate the effort put forth by Dave Cousins and have always seen the band in transition, or as one who takes the road less travelled.

AN ALBUM OF TWO HALVES! - Review by Dick Greener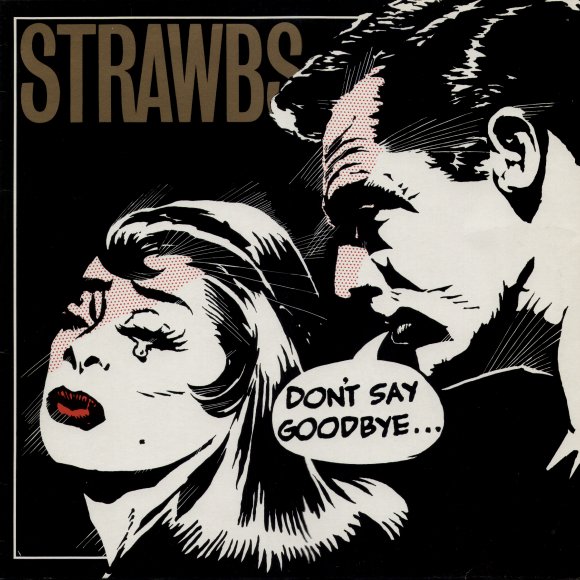 I remember first hearing this: I was travelling round the UK visiting universities and quite often found (!) time to stop off at local record shops as I went. I was in Catapilla Records in Exeter and was idly thumbing through the racks, not finding anything much of interest, when my toes suddenly became aware of the music playing on the shop audio system. As my brain caught up, I realised that I was listening to the dulcet ones of one Dave Cousins (the track was "Something Or Nothing").
I bounced over to the desk to find that this was a copy Dave had left with the owner (who used to be in the Vertigo band Catapilla, hence the name) and he didn't really want to sell it. However, I managed to persuade him to do so and stonked up the A303 to get home in time to listen to it through. (I've still got that copy with the Catapilla shop label on it.)
Funnily enough Side 2 has always been my favourite: "Something Or Nothing" is a smashing song, full of Cousins ire and vitriol, his heartfelt commentary on the music industry. Even when it got rather over-exposed (as the second track in for most of the 80s live sets) I still enjoyed it - what would it sound like with 2 guitars I wonder ..... (I don't think the backing tapes from Heartbreak Hill were re-used, I think the whole thing was re-recorded.)
"Evergreen" is a complete change of gear - vintage Cousins/Hooper Strawbs with Tony turning in a trademark mellow vocal and "That's When The Crying Starts" - one of Cousins' best "pop" songs - lots of dynamics.
"Beat The Retreat" - now I have to disagree with Olaf here: I heard Dave at the July Wakes Folk Festival singing this in 1976, and the memory of it stayed with me for over 11 years until I heard it again (a bit like the track "Heartbreak Hill", which I heard at the Venue in London in 1978, stuck until I got hold of a cassette copy of the album in about 1993). I worked out the chords for this and it's one of my all-time favourite Cousins songs - written over the Boxing Day period of 1975, when apparently he was rather down, and performed on various radio shows during the course of 1975.
Side One, well, some of it I like, some of it I can leave behind. "A Boy And His Dog" is a bit too synth/flash for me. "Let It Rain" I quite like, but neither it, nor "We Can Make It Together" (which I understand was one from very deep in Cousins' back pocket - back to the era of "Tell Me What You See In Me"), really have the sparkle of the tracks on Side 2. I've never been a big instrumental fan, so for me "Tina Dei Fada" is a bit of a filler, as is "Big Brother" (I thought the Hudson/Demick/Willoughby tracks on Ringing Down The Years were much more appropriate for the Strawbs sound.
Overall, as they say in football, an album of two halves!

COMMENTS FROM WITCHWOOD - THE STRAWBS DISCUSSION GROUP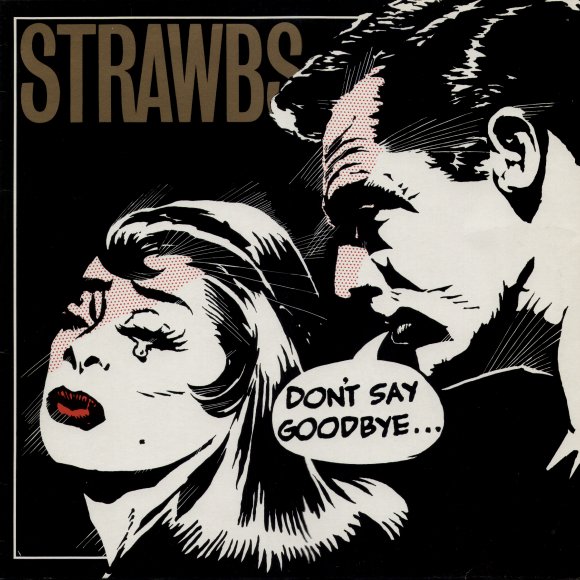 Olaf Baecker
Well, I have some special memories concerning Don't Say Goodbye. I've suffered from a brain haemorrhage in May 1987 and the doctors told my wife there would be little hope for me to survive. As they told me afterwards it must have been a very strong will in me to get back into life again. The following treatment in 1988 led me to Mass. Gen. Hospital in Boston. At that time the MGH was the only place to be treated with Proton Beams. Fortunately I learned again to speak and walk till 1988, so I took the opportunity to have a closer look at the beautiful town of Boston. And Boston's got some very interesting record shops. In one of these, I don't remember the name, I found Don't Say Goodbye. At that time there was only pleasure to find a recording by the much loved Strawbs. Years later, and with the certainty that there is a power that leads you through life, I read Don't Say Goodbye again. For me it wasn't a mere accident to find this record.
There's no climax on side one, apart from seeing Hud back again. "Tina Dei Fada" shows "Carlos" Willoughby on guitar. "Big Brother" seems to be a poor try to get the "Part Of The Union"-feeling again. Side two presents better moments with the rocking "Something for nothing", which would have deserved some mellotron-splashes in my opinion, and beautiful melodies in the old Strawbs-style from the 70'. "Evergreen", " That's When The Crying Starts" and "Beat The Retreat".
All in all not their masterpiece, but it was good to see them back again at least. And........Thank you for the message, guys!!!!

John Graham Smith
I don't think that Don't Say Goodbye is going to figure on many lists of all time favourite Strawbs albums. There are too many tracks that are only OK - for example I always felt that "Let it Rain" could have been a sucess in the Eurovision Song Contest . On the other hand, I was delighted when it was released - we had been without a new Strawbs album for too long and one track -"Beat The Retreat" was worth the purchase price on it's own. I liked "A Boy And His Dog" (Wasn't there a Harlan Ellison story of that title? Probably no connection though). "Something For Nothing" is one of those songs which is better live than its studio version. As everyone seems to be pointing out "Big Brother" revisits "Part Of The Union". All in all it's a varied album, but I feel that in general the lyrics are better than the tunes. Except "Tina Dei Fada" of course.

Tom Brooking
I agree about Don't Say Goodbye being half a good album but my reaction was a little different. "A Boy And His Dog" has a snyth line that doesn't work especially well but it is marvellously sarcastic lyric and Willoughby's solo is awesome right down to the dog whistle. "Let It Rain" is much stronger and should have been huge hit-eat your heart out Phil Collins! Yet again Willoughby soars and the chorus is great especially when the black woman singer comes in - this is one female voice that works with the DC bray!! [actually Miller Anderson, I understand - DG]. Overall a miles better version than on Heartbreak Hill.
Then the album slides with "We Can Make It Together" well below the Heartbreak Hill version. It has some ok social comment but it does sound old fashioned and lacks a decent instrumental break. Hud's instrumental is saved by BW but "Big Brother" doesn't quite make it depite an honest attempt at further social comment. "Something For Nothing" returns to form although I like the Heartbreak Hill and live version better - a grunty song and I'm glad it's about the record business rather than a person!
Evergreen is lovely and I'd like ore like this in future please! DC can sing sweet harmonies! "That's When The Crying Starts" walks a fine line between emotion and slop and is bit C&W for me but it is saved by BW's guitar lines. Again BW saves "Beat The Retreat" but I find this song depressing and too full of self pity.
Ringing Down The Years is much more convincing for me but this album represents a step back towards playing again and has plenty of good moments-about two thirds of which I like-not vintage but ok because there is plenty of musicality.

Bennett Wolf
It was one of my happiest days in 1990 when I came across DSG in a now defunct Long Island CD shop. It was import on the wall and the first Strawbs that I would own on CD. I hadn't even known of its existence. I was taken aback by the synth-shock of "A Boy And His Dog". I felt at the time that Dave was trying to make up for lost time and dive right in to what he had been missing. A good try but a bit awkward I thought. Willoughby was wailing though impressive.
"Let It Rain", a ballad in the Phil Collins vein (in more than just title) shows why Dave does it better with a pastoral voice and lyrics that lend his usual earthiness. "We Can Make It Together" then chugs in. It's OK but it sounds a bit too digital compared to the Heartbreak Hill version.
Now about "Tina Dei Fada", what's the matter with you people? This instrumental is quite simply gorgeous. My CD has no writing credits. I can barely believe that Hud wrote this. Brian's tone is searing. Let's own up folks. Cousins' voice may make it Strawbs but a good tune is still a good tune. It's the same with "Big Brother", the CD had no credit or lyrics and I could never make them out. Then I found Strawbsweb with all the lyrics and this Orwellian stuff is bandied about. Up till now I had associated the "tune" with good times I had with my older brother. Boy did I feel like a rube. A frolicky and fun tune bogged down in politics, sheesh!
Next is "Something For Nothing" a full fledged prog Strawbs epic. It's strong but with a John Hawken at the keys it might have been stronger. Again I think the Heartbreak Hill version with Lambert is better. I can hear his scratchy rhythm style better on the older, noisier recording. Its just has more of an edge.
"Evergreen" is quite simply one of the most beautiful songs that I have ever heard. They seem to save Tony Hooper for these brilliant psalms and it's always worth waiting for. I just wonder about the inclusion of the melody from "Thats When The Crying Starts" as the bridge. This is before that song on the CD of course so you have to wonder where the melody was written first. "Crying" is more than a bit sappy and to me a slow and a low point on the CD. I could have done without it and they named the album after it! I like the stripped down folkiness of "Beat The Retreat", but can't Dave ever end these things on a hopeful and happy note. Come on Dave, plenty of people around the world love what you and your friends do. Be Happy!!!

Joe Langer
My first reaction to the news of a new Strawbs album was FINALLY! I got a vinyl copy and went to my cousin's house [he had a real nice stereo] to make a tape. I was very excited to read Tony, Hud, and BW listed on the credits. I started side one, 30 seconds into "A Boy And His Dog" my cousin asks what the hell are we listening to. OK so maybe not the best start ever to a album. Next up "Let It Rain", remade from Heartbreak Hill [ I had a bad sounding tape of it]. Far superior to the Heartbreak Hill version. A beautiful song lyricly, beautiful harmonies, a GIRL [uncredited ] singing at the end,and a great vocal proformance by Dave. Should have been a hit. This song alone is worth the price of the CD. Next up another remake from Heartbreak Hill,"We Can Make It Together", an ok song but nothing special. "Tina Dei Fada" is a nice instrumental leading to Hud's "Big Brother". A nice try to cash in on POTU. "Something For Nothing", another remake from Heartbreak Hill, opens side two. Great lyrics great song. Tony sings "Evergreen" next, again like "Let It Rain", a fantastic song, words, music, voice. My wife's favorite strawbs song. [I played her Dave's version from Acoustic Strawbs back to back and she was shocked on how much she liked both versions]. "That's When The Crying Starts", another favorite is next. "Beat The Retreat" closes the disc. B.W.+D.C. acoustic [does it get better then that] with rest of the band joining in with very tasty backup as the song progresses. Overall a fine album with 4 outstanding songs. Brian's guitar is exceptional thoughout.

David Claridge
I remember grabbing a vinyl copy of this at the Half Moon, in Putney, and heading straight back home post-gig to pop the old needle on it. Mixed feelings - "Beat The Retreat" is a real treasure - Brian just as nature intended, on acoustic (IMHO). I ACTUALLY LIKE "A BOY AND HIS DOG"! I like the vocals, in the same way as "Turn Me Round" - scathing. Cousins can sing "Absent Friends" and "Josephine" as if he's sending a sensitive, heartfelt message to one person, and then he can sing "Turn Me Round", "A Boy And His Dog", "Tomorrow" and "New World" like he wants to verbally tear you to shreds. Vocally, Lennon and McCartney could do this, but only collectively. The Who certainly couldn't with Daltrey rasping away. Cousins can do both, and that's why I like albums such as Deep Cuts ("Wasting My Time" included).
Alas, there are too many fillers on this album to make it a winner for me. "Big Brother" is a needless remodel. If something works, then repeat it, but there were too many years in between the two. (Note- I still secretly hamper after Hud picking up the sitar again. Does anyone know if he still picks, strums, flails, or lotus' the instrument?)
The other tracks I pick out are:
"Evergreen" - I do love Mr Hooper's angelic tones, if a little imprecise - tempo-wise. Someone else reported here a while back that his rendition didn't bring out the best in the lyrics, and after hearing the Baroque & Roll version - they were right, but nevertheless, I like it. "When The Crying Starts" - very well structured, should be snapped up and launched as a hit by some pretty young things. I wonder whether Dave's songs are pedalled around the publishers of the talentless wonders of today?
One grievance I do have is the particular style of Mr Parren's keyboards. Talk about dead man's shoes though - following a long list of extraordinary ivory-tinklers can't be easy, but I just think he was a little 'clumpy' for me. Lacks a softer touch - then again, who knows whether this was under instruction (intro to "Evergreen" is the example I'm thinking of).
And a mild word about Our Lord Willougby's guitar. Acoustic, for me, is where he leaves people standing. On "Something For Nothing", it's just too many notes in too few seconds, IMHO. I'm not saying he should turn into Slow Hand Eric, but he was in danger of heading towards Gary Moore!