HIGH SOCIETY at The Bull Theatre
by Ken Laws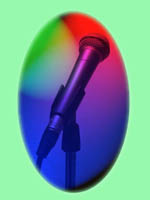 The elegance displayed on the dance floors during the early part of the twentieth century was revived last night through the witty, charming, whimsical and uplifting music performed by the wonderful ensemble that is High Society.

Two of the founder members, Richard Hudson and Terence Cassidy, are no strangers to success, Hudson being the recipient of an Ivor Novello award and both he and Cassidy sharing gold and platinum albums for their work in the field of rock music, an impressive history indeed, but the future is even brighter since the formation of High Society, one of the finest ensembles to emerge, specialising in the field of 20's and 30's palm court miniatures. It is not only their superb artistry as musicians, but the quality of their all original songs that sets them apart from others performing this type of material. Their ouevre would sit nicely on the music stands of Penguin Jazz Café, The Pasadena Roof Orchestra or indeed the Temperance Seven.

With a song writing pedigree to match the finest in the business it's not surprising to find one's feet tapping before the first bar of music is over, the jaunty show numbers and picture story lyrics are the main stay of their truly creative writing. Cruising on an ocean liner, strolling down the Strand, or if you happen to be a Parisian boulevardier, your demeanour will only be improved by the strains of "I Never Go Out In The Rain", a homage to a "typical" English summer's day.
Fred Astaire would have loved "Top Hat And Tails," a true sign of a gentleman or "The Late Late Train," not as you may think a comment on British rail, but a love song with plenty of steam in it! If you're stuck in life's mire, "Got To Get Out Of This Rut" will certainly relieve you of this malaise.
Special mention should be made of Mr. Cassidy's vocal delivery which slices through English vowels better than Mrs. Bridges can cut through her cucumber sandwiches! If only we could get him to use a little more Brillcream and part his hair the middle!
You'll also wonder at the speed and virtuosity of lead guitarist Simon Bishop - and those infectious rhythms from the guitar of Richard Hudson, ably underpinned by the almost tuba-style bass of Dickey Baldwin which just won't let your feet stand still!
There is no doubt in this writer's mind that the virtues described will see to it that in music halls across the land audiences will warm to the humour and delight in the efficacy of this musical band of troubadours. So dust off your spats, fix your monocles, give the butler the night off and take your pin stripes out on the tiles - you could do no better than be in the company of High Society!
Sincerely
Kenneth C. Laws